Corelle dishes are both affordable and durable. Made of a specially tempered glass, they're also significantly lighter than ceramic and porcelain. But Corelle isn't the only option for break-resistant, dishwasher-safe dinnerware. Other brands, and other materials, offer a similar performance and a comparable price point, providing you with a much wider range of styles from which to choose.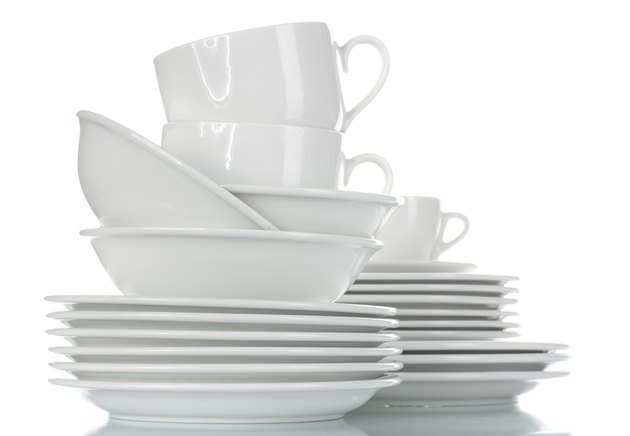 credit:
serezniy/iStock/Getty Images
If chip- and break-resistance are your goal, melamine dishes are an alternative to Corelle. They are affordable, lightweight, virtually chip-and-break proof and come in a wide variety of colors, patterns and styles. However, melamine can scratch; it's not microwave safe; it can stain and should not be used with very hot dishes. Though some concerns exist about chemical exposure and the use of melamine, the U.S. Food and Drug Administration stated in 2014 that melamine dinnerware does not pose a health risk in normal usage.
Glass dinnerware sounds as if it's delicate, but it can be surprisingly durable, especially if it's tempered glass. Most glass dishes are microwave-safe; they are lightweight and generally not easy to break or scratch. They will chip, however, and aside from a few major brands, color and pattern selection is somewhat limited. Glass dishes are also recyclable, and dishes made from recycled glass are readily available. Though dishwasher safe, glass dinnerware can get cloudy or etch in hard water and requires the use of a rinsing agent.
Another choice is melaboo, a composite of bamboo and melamine. The dishes withstand normal kitchen wear and tear, and they completely break down within 18 months in a landfill. Like melamine, it's lightweight and durable, but it's not safe for the microwave, although it will handle fairly high heat exposure. Selection is limited to a few styles and colors, and the price point is a bit higher than comparable melamine pieces. Note that melaboo is not designed to last a lifetime; the material will get brittle over time.
If weight is not an issue, heavy clay or stoneware dishes meet many cooks' criteria. They are sturdy, break-resistant and can withstand high heat, and their price ranges from very affordable to very expensive. Another option for truly break-proof dishes is stainless steel, or even aluminum. It may take a bit of searching, but metal dishes are available in several different styles. They may be the most durable choice, but they are not lightweight, and, of course, they can't go in the microwave.