A tea towel is used for drying dishes and silverware after washing. It can be spread over a tray when serving tea or can be used to keep pastries warm. Linen is the most popular fabric for tea towels because it will dry delicate items without scratching them. They can also be cut to size and hemmed from less expensive cotton, making them good daily-use towels.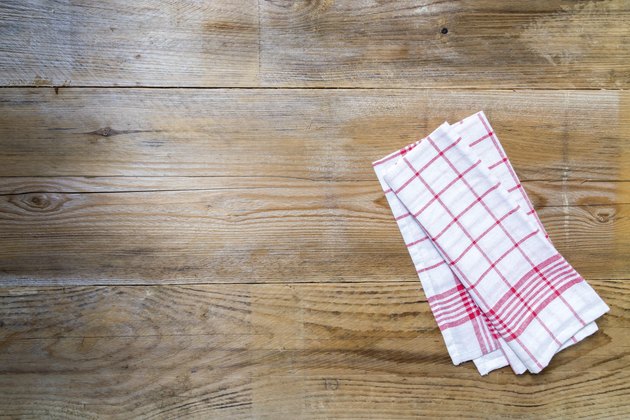 credit:
8vFanI/iStock/Getty Images
Step 1
Press a 1/4 inch seam around the edge of the fabric piece. Fold edge over another 1/4 inch and press well with steam iron to enclose the raw edge.
Step 2
Cut ends of double-fold bias tape at opposite 45 degree angles. Insert the cotton tape into one of the top right corners so the ends fit under the pressed folds and pin the tape in place. This is creating a loop that will be used to hang the tea towel from a hook.
Step 3
Sew the pressed hem down close to inside edge, making sure to securely sew the corners down. Check to be sure that the bias tape is in the correct position before sewing. If desired, sew around the towel again 1/4 inch inside of first hem, making a double hem.