Things You'll Need
Towel

Dish soap

Soft cloth

Soft-bristled brush

Fine sand paper

Food grade cooking oil

Paper towels
Warning
Do not pour cold water into the kettle when it is hot as this will cause it to crack. Avoid using harsh chemical cleaners and abrasives on your humidifier.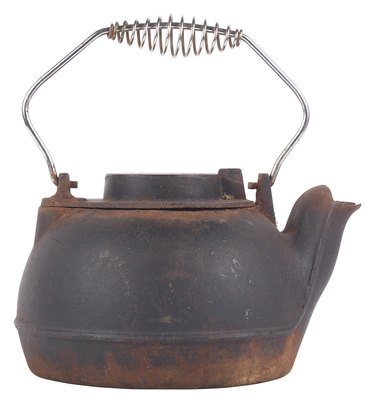 Instead of bulky appliances that need to be plugged in, cast iron kettle humidifiers sit on your stove lending a rustic look to your kitchen as it puts off ample steam. In the winter especially, when the air is cold and dry, a humidifier is an important addition to your home. Durable in design and timeless in nature, cast iron kettle humidifiers are more than equipped to withstand the test of time if properly cared for.
Step 1
Empty the water from the kettle when it's done being used and set it upside down on a towel to drain and dry before storing it. Avoid leaving water in it in between uses.
Step 2
Wash the kettle with warm soapy water. Use a soft-bristled brush to get into places your hands cannot. Rinse it out well and place it upside down on a towel to air dry with the lid off.
Step 3
Remove rust from the cast iron kettle humidifier with a fine piece of sandpaper. Rinse the area off under running water and pat it dry with a soft towel. The kettle will need to be re-seasoned after removing the rust.
Step 4
Re-season the cast iron kettle humidifier by wiping the outside with food grade cooking oil. Pour a cup of cooking oil into the humidifier and close the lid before swishing it around and pouring the oil out to coat the inside. Place the kettle into the oven at 400 degrees Fahrenheit for half an hour.
Step 5
Store your cast iron kettle humidifier in a cool dry place with the lid off when it isn't needed. Keep two to three paper towels inside to absorb any moisture from humidity that may accumulate inside.
---
Melynda Sorrels spent 10 years in the military working in different capacities of the medical field, including dental assisting, health services administration, decontamination and urgent medical care. Awarded the National Guardsman's Medal for Lifesaving efforts in 2002, Sorrels was also a nominee for a Red Cross Award and a certified EMT-B for four years.