Mailing a business-size envelope requires a single first-class stamp. But mailing a 9-inch-by-12-inch manila envelope requires additional postage, depending on its weight.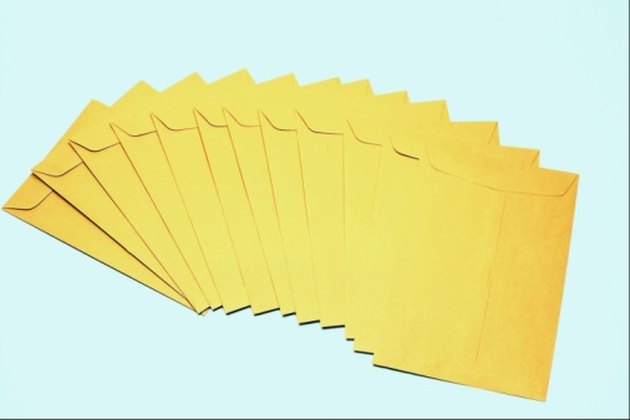 Once you weigh your envelope with a postage scale, you can use the website of the U.S. Postal Service to calculate the exact amount of postage your envelope needs.
Step 1
Insert your documents into the 9-inch-by-12-inch envelope and seal it. Write your name and address in the top left corner. Write the recipient's name and address in the center of the envelope.
Step 2
Use the postage scale to find the weight of the package in ounces. If the package is more than 8 ounces, or a half pound, take the package to your local Postal Service branch to learn about the best mailing options.
Step 3
Go online to the Postal Service's Postage Price Calculator website at postcalc.usps.gov. Select the destination country and enter the zip code and the date of mailing.
Step 4
Click the "Large Envelope" icon to select the shape. Enter the weight in ounces and click "Continue."
Step 5
Check any of the boxes on the following screen that apply to your envelope and click "Continue."
Step 6
Look at the row titled "First-Class Mail Large Envelope," in the column titled "Post Office Price." This gives you a dollar amount, for example, $1.88.
Step 7
Affix stamps to the top right corner of your envelope. The combined value of the stamps should total or exceed the postage amount from the website. For example, to put $1.88 worth of stamps on your envelope, you'd need four 44-cent stamps and six 2-cent stamps.
Step 8
Place the envelope in your mailbox. If the envelope is too large to fit in your home's mailbox, you can mail it at your local Postal Service branch or drop it into any blue public mailbox.