Efficiently allocating the space in your garage makes the difference between being able to park your car or instantly find what you need and spending time digging through piles and bins trying to locate routinely used household items. The trick to getting the most out of the space in your garage is to use the walls and ceiling as your primary storage rather than the floor.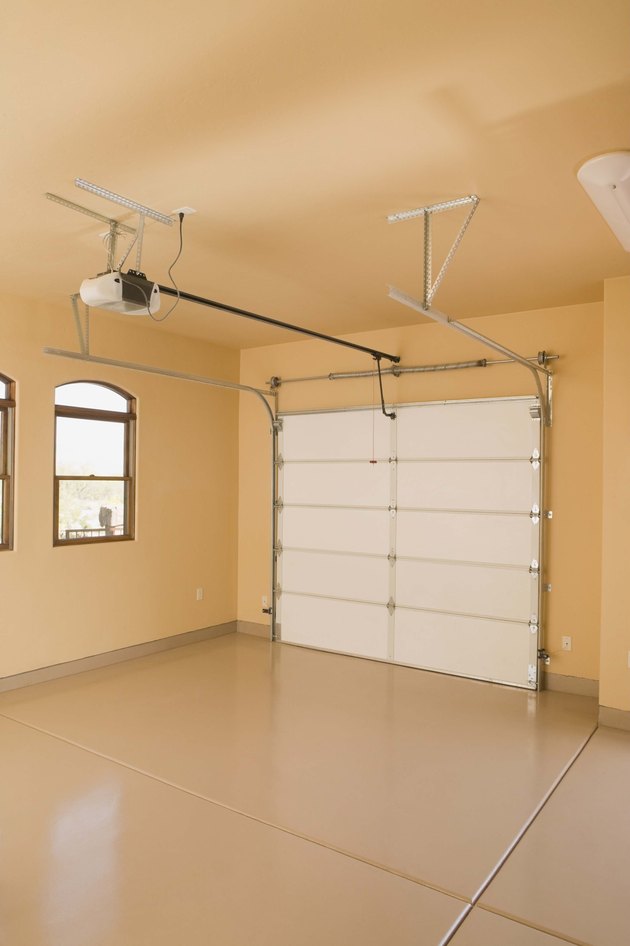 credit:
Jupiterimages/Comstock/Getty Images
Cleaning out your garage puts you on the fast-track to an organized, efficiently used space. Go through everything and get rid of pieces that you don't need. Then, make an inventory list of things you're keeping. Separate these by category, such as gardening, tools and seasonal storage. Next to each item, indicate the best way for it to be stored. For example, tools are best stored on a pegboard, slat system or a cabinet, while rakes and shovels work well with hooks.
Starting with an empty garage, lay down painter's tape to create an outline for the space you need to park and comfortably get in and out of your cars. Look over the remaining area and measure for maximum cabinet depth and lower shelf overhang, and set aside floor space for a rolling work bench, lawn mower or other item that cannot be placed on a shelf or storage piece. Measure what you have to work with and compare this with your inventory list and the types of storage necessary for the items that you have. Draw up a storage plan, factoring in wall storage and overhead shelving or hanging brackets along the ceiling, ensuring you have enough space for the items you have as well as room to grow in the future. Create sections in your plan for each type of item, and consider which location is best for each category; for example, yard tools are often best kept by the garage door for easy access from the yard, while household items like mops and brooms work well by the door leading into your home.
Garage cabinets are a classic storage choice, allowing you to combine drawers with shelving for a multifunctional unit that often includes workspace. These can mount to the wall or take up minimal floor space around the perimeter of your garage. Wall shelving, held in place with heavy-duty brackets, can house larger items as well as bins holding smaller pieces. Install these from floor to ceiling if you have the space, or start them in line with the top of your car and work up to keep the floor space below clear. Pegboards and slat walls make housing tools, and keeping them easily accessible, easy, They can be installed between shelves, behind open spaces in garage cabinets or on their own. Stack these vertically as well, keeping hanging items up higher, and smaller pieces closer to the ground so that you can reach things when necessary.
Ceiling Storage Solutions
Install a garage ceiling storage system to house items that you don't often use year-round, such as seasonal decor and camping gear. This gives you maximum use of your floor space without making specific items too hard to get to. Install a longer rack to keep wood or pipes off the ground and leave room for a kayak or boat rack if you have one. Hang bikes, ladders or even a large shelf filled with tubs using a garage ceiling pulley system. This keeps everything off the ground while giving you easy access.
With a basic set of tools, yard gear and cars, many homes don't have a large enough garage to accommodate everything. If this is the case for you, purchase a stand-alone shed for your backyard to house seasonal items or rarely used pieces. This frees up space in your garage so that you can utilize it to its fullest potential, keeping regularly used items within reach. Items to consider storing elsewhere include extra tools, snow shovels, pool gear and scrap lumber. Keep a small section in your garage free for when you need to keep these items closer to the house, and rotate them with the seasons or as necessary. A rental storage unit is another alternative, especially if you have more items than can fit in a garage and shed.