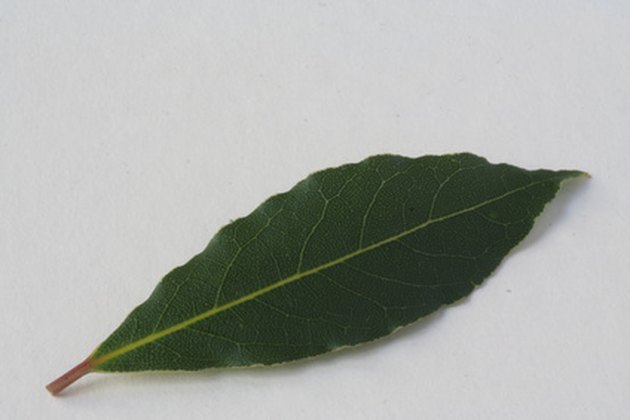 Bay leaves, especially dried bay leaves, have a hard stem that feels uncomfortable when eaten. Old wives' tales warn that eating a bay leaf can kill you, but doing so is more of a nuisance than a true health threat.
Types
Dried bay leaves come in metal containers or small plastic or glass jars. Fresh bay leaves are less harsh, but the stem still feels rough if you eat it. Powdered bay leaves remove the rough stem; this form of bay leaf is completely safe to eat.
Considerations
When you accidentally eat a bay leaf, you should feel a crunching sensation, as the leaves don't break down during cooking. The sharpness of the steam and leaf will typically hurt your throat or make it feel sore.
Prevention/Solution
Remove the bay leaves from your food before serving it. If you're worried about not being able to find the leaves in the finished dish, wrap the leaves in cheesecloth first and remove just before serving.
---
Jennifer Eblin has been a full-time freelance writer since 2006. Her work has appeared on several websites, including Tool Box Tales and Zonder. Eblin received a master's degree in historic preservation from the Savannah College of Art and Design.