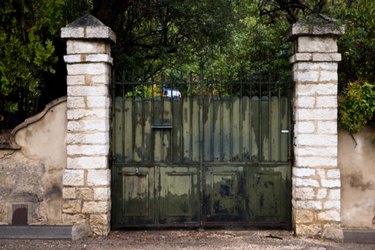 Gate openers are usually installed on homes or other properties that require an additional level of security. The motor is controlled by a keypad on the gatepost or remote control within the approaching vehicle that sends a signal to the receiver. The gate opens automatically once the correct code or signal is received. Troubleshooting your gate opener helps you determine why the gate doesn't open when you enter a code or use the remote control.
Step 1
Re-enter your entry code into the control panel; you might be making a mistake or using and old code. Remember to hit the "Enter" button when you are finished typing. Make sure the remote is within range of the sensor when you hit the button; buildings, trees and other objects sometimes deflect the signal away from the sensor.
Step 2
Check if the gate opener is receiving power; a circuit breaker or fuse could have tripped or blown. The gate opener's breaker or fuse is usually located in your home with the breakers or fuses for the rest of the house. Reset the breaker or replace the fuse and try the opener again.
Step 3
Wipe the opener's sensors clean with a damp cloth; dust and dirt could be providing a false reading to the motor, preventing the gate operation. Make sure no branches or other debris has fallen in the path of the sensor. Many gate openers detect when there is an obstruction in the path of the gate.
Step 4
Reconfigure your gate opener's open and close limit settings; the mechanism might be incorrectly set up for your particular gate. Most openers stop moving when a specific limit is reached. Consult your opener's instruction manual for precise instructions on how to program your gate opener.
---
Jon Stefansson has been a professional writer since 2009. He is currently freelancing as an advertising and web copy writer for several Canadian and American clients. Stefansson graduated from Staffordshire University, England, with a Bachelor of Arts in broadcast journalism. He has freelanced for several British radio stations as a news reader and sports producer.