Things You'll Need
ADT motion detector

Replacement batteries
Tip
Ask ADT what batteries your sensor needs when they call you with a low-battery warning. If you are unsure of how to open your sensor, ask ADT when they call to tell you of the low battery condition.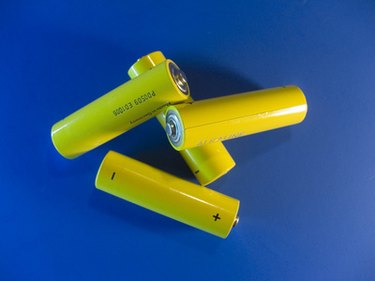 ADT motion detectors have battery backups so they continue to work if the power to your home or business fails. A low battery in your ADT motion detector can trigger false alarms if the power goes out. If the battery is dead, the detector may not work at all. ADT motion detectors report a low battery condition to the ADT service center. ADT will call you and tell you which sensor needs a new battery and can offer advice on how to change the battery. ADT has used a number of different sensors, each of which is different. The battery type and procedure for accessing the battery compartment will differ, depending on the sensor.
Step 1
Remove the faceplate from your motion detector by pulling it away from the base plate. In some cases, you may need to squeeze the sides to release plastic catches to allow the plastic face plate to easily separate from the base.
Step 2
Locate the old battery or batteries. Some ADT sensors use one battery, others can use up to 4 batteries.
Step 3
Remove the batteries from the sensor and wait at least 90 seconds. Leaving the battery out of the sensor for 90 seconds will allow any stored charge to discharge before you insert the new batteries.
Step 4
Insert the new batteries into the sensor. Be sure that the positive and negative (+ and -) contacts are correctly oriented in the sensor.
Step 5
Replace the sensor's faceplate.
---
Although he grew up in Latin America, Mr. Ma is a writer based in Denver. He has been writing since 1987 and has written for NPR, AP, Boeing, Ford New Holland, Microsoft, RAHCO International, Umax Data Systems and other manufacturers in Taiwan. He studied creative writing at Mankato State University in Minnesota. He speaks fluent Mandarin Chinese, English and reads Spanish.