Things You'll Need
Original fluorescent tube package

Plastic packaging tape

Plastic trash bags
Tip
Some states or local regulatory agencies require individuals to take fluorescent tubes to an authorized recycling center or hazardous waste disposal site.
Contact lighting retailers in your area to see if they offer their own disposal or recycling options.
Warning
Be careful when handling fluorescent tubes. If breakage occurs, remove people and animals from the area at once. Safe cleanup guidelines can be found online and by calling your local city or county government center.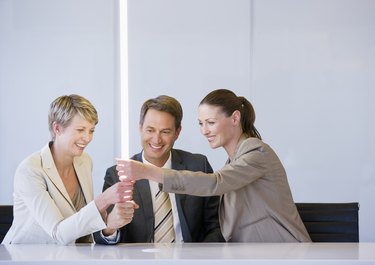 Fluorescent tubes serve as an energy-efficient alternative to incandescent light bulbs, but they contain low levels of toxic mercury which can be released into the air or water if the tubes are broken. That can lead to short-term health risk for exposed individuals and lasting environmental damage to soil and water. To minimize that risk, government agencies have established easy to follow guidelines for the safe recycling or disposal of fluorescent bulbs and tubes.
Step 1
Contact your municipal or county government center for information about fluorescent tube recycling programs in your area. Recycling pickup of toxic materials may occur only a few times a year in your community, so you may need to store your used fluorescent tubes temporarily.
Step 2
Store used fluorescent tubes in a closed container, such as the tubes' original cardboard packaging or a large plastic trash bag. Many local recycling or environmental regulatory agencies recommend sealing the storage container or bag prior to pickup.
Step 3
Place the sealed container of old fluorescent tubes in your trash receptacle for regular pickup if no other options exist. Do this only if your local waste agency does not incinerate its garbage.
---
Lisa Weinstein is an award-winning, California-based journalist specializing in education. Her work has appeared in numerous online publications. She holds a California English teaching credential and uses her classroom experience to add depth to her writing.