An inground swimming pool is built into the ground and once installed, is a permanent fixture in a backyard. While homeowners can choose the size, shape and design of an inground pool, it's also important to consider any potential problems that may occur during the installation of an inground swimming pool.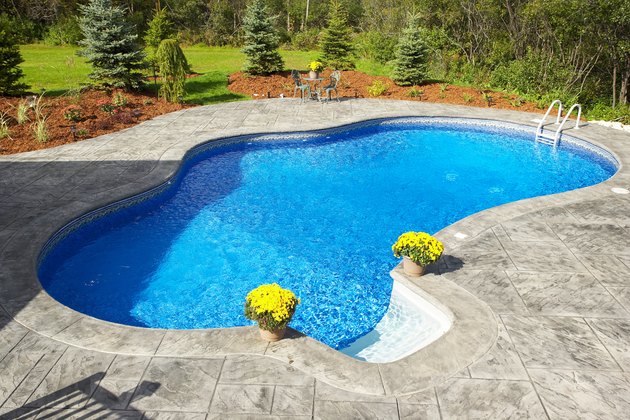 The installation of inground swimming pools is much more expensive than above ground pools. Homeowners may have to dig deep into their pockets to cover the construction costs and material expenses. Also, once the inground swimming pool is installed, the upkeep of the pool is expensive, and individuals need to think about maintaining a filter system, purchasing chemicals and cleaning the swimming pool. According to SignatureContractors.com, the installation of an inground swimming pool can cost anywhere from $7,000 to $40,000.
While the end result of an inground swimming pool can add to the value of a property and look spectacular in the backyard, the construction process can be a bit arduous. Construction workers need to dig a hole in the back yard, which can be a huge inconvenience for a family. Not only will there be constant noise during working hours, but digging a hole can damage plants in the backyard.
Homeowners can't just wake up one morning, decide they want an inground swimming pool and call a construction company to start digging. Cities have laws regarding the construction of inground swimming pools, and homeowners will have to get the necessary permits and take the proper precautions. To obtain a permit, homeowners need to take pictures of the land and submit a letter from an engineer that states an area is adequate to support an inground swimming pool. In some instances, homeowners will have to also erect a fence around the construction area. Failure to follow these laws can result in substantial fines.
Swimming pools are supposed to be a fun activity that brings families together and offers individuals a chance to exercise regularly. However, installing an inground swimming pool also comes with certain dangers that don't exist with above ground swimming pools. Families with small children may not want to take the chance of their little one accidentally stumbling into the pool or having to constantly watch them as they play in the backyard.