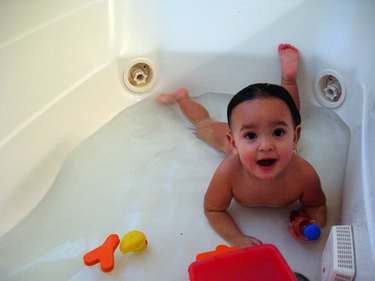 Whether you live in an apartment or a house, your residence probably contains some type of tub. The most commonly installed tubs are still shallow standard tubs, but soaking tubs are also popular.
Size
A standard tub is generally 2-1/2 by 5 feet and approximately 14 or 15 inches deep so the water will not completely cover an adult's body. In contrast, soaking tubs vary greatly in size. They are typically about 20 inches deep and allow water to cover most or all of the body.
Cost
A basic bathtub is cheaper than a soaking tub. Prices vary, but you can purchase a basic tub for less than $175. Most soaking tubs are considerably more expensive. Soaking tubs generally start at $500 and can cost upward of several thousand dollars.
Use
Tubs are ideal for personal cleaning but can also be used for relaxing or to alleviate pain and can double as an over-sized basin to wash large items. Both soaking tubs and standard tubs can be soothing, but deeper soaking tubs may be more therapeutic for back pain and aches in your upper body. Regular tubs are better for basic bathing and soothing lower limbs that can be submerged.
Tub Comfort
Your physical size may help you decide between a soaking tub and a standard tub. Generally, larger or taller people prefer a deeper tub so the water comfortably covers their bodies, while a smaller person or child may be more comfortable in a shallow tub.
Other Differences
A soaking tub is generally heavier than a standard, shallower tub and, therefore, will require more support when it is installed. It is important to make sure your bathroom floor can handle the weight of the soaking tub you choose, so consult an expert before making your purchase. Additionally, soaking tubs are often larger, so your space may determine the type of soaking tub you choose.
---
Abby Slutsky has been freelancing since 2003. She is a contributing writer to a poetry collection and has been published in "Sassee Magazine," "Learning Through History" and "Pampered Puppy." Slutsky has a Bachelor of Arts in English from the University of Pennsylvania, a Master of Education from Chestnut Hill College and a Juris Doctor from Emory School of Law.