Things You'll Need
Tape measure

Chlorine tablets

Water

5-gallon bucket

Long-handled spoon

Tablet dispenser
Tip
Instead of dissolving the tablets in a bucket, purchase a pool tablet dispenser and place the tablets in it. A pool tablet dispenser hangs on the pool side and floats in the water to prevent the tablets from settling on the pool liner. Purchase chlorine tablets at a home improvement store or pool supply store. Ensure that the tablets are not labeled as slow dissolve tablets. Read the tablet instructions to determine the number of tablets required for the pool size.
Warning
Do not simply toss the chlorine tablets into the Intex pool as the undissolved tablets will damage the pool liner.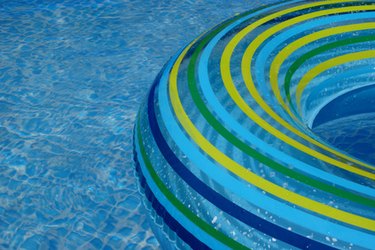 The Intex corporation manufactures a variety of above ground swimming pools and equipment such as pool filters, inflatables and swimming gear. The above ground pools come in four different styles with some that have soft sides and other styles that have rigid sides. Maintaining an Intex above ground pool is very similar to maintaining an in ground pool. Monitor the pH and chlorine levels of the water regularly and adjust when needed.
Step 1
Determine the size of the pool in gallons. If you do not remember the size of the Intex pool, determine how many gallons it holds by using a tape measure to measure the distance across both the width and the height of the pool. Place the tape measure at the top edge of the pool, and measure down to the ground to determine the depth. Enter the measurements into a calculator, like the one provided in the Resources section, to determine how many gallons of water the pool holds.
Step 2
Fill a 5-gallon bucket 3/4 full of pool water, and insert the chlorine tabs into the bucket.
Step 3
Stir the water inside the bucket with a long-handled spoon until the chlorine tablets dissolve.
Step 4
Pour the chlorinated water into the Intex pool, and turn on the pool pump to circulate the chlorinated water throughout the pool.
---
Kimberly Johnson is a freelance writer whose articles have appeared in various online publications including eHow, Suite101 and Examiner. She has a degree in journalism from the University of Georgia and began writing professionally in 2001.