Marbelite is a colored finishing plaster with a cement base used for coating concrete or gunite pool surfaces. Marbelite is applied in a single day to avoid creating any appearance of joints in the surface. Once installed, the material creates a marbled-looking surface after water is added to the pool, increasing the attractiveness of the pool while adding to its value.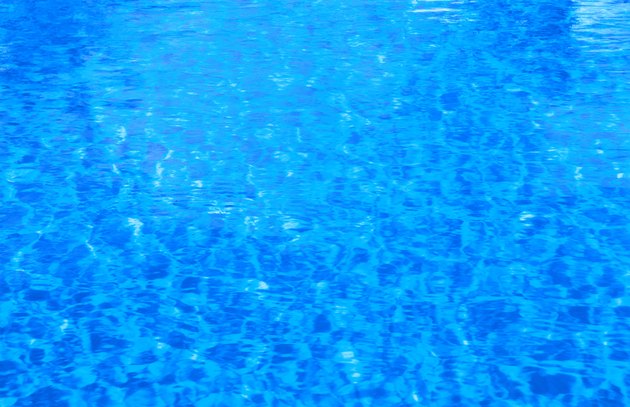 credit:
Stockbyte/Stockbyte/Getty Images
Step 1
Put on work gloves and safety goggles to protect your skin and eyes from the cement contained in the Marbelite mixture. Put on a face mask to avoid inhalation of the material as well.
Step 2
Dampen the pool surface by watering it down with a garden hose. Mop up any standing water left on the floor of the pool after hosing down the surface.
Step 3
Mix the Marbelite according to the manufacturer's instructions, adding water to the mix until it's of a smooth spreadable consistency, like that of oatmeal. Use a drill with a grout mixer attachment to mix the Marbelite in a large bucket for application.
Step 4
Apply the Marbelite to the pool surface beginning at the top of the walls and working your way down. Use a rounded steel trowel for the application of the material, firmly pressing the material onto the dampened pool surface with the trowel to a layer of 4 millimeters thick. Add a second layer of the material of equal thickness after the first.
Step 5
Plaster the floor of the pool beginning at the deep end and working your way to the sallow side. Use two layers of the material on the floor of the pool as well. Allow the plaster to set slightly, just short of hardening in place.
Step 6
Go over the Marbelite surface with the trowel one more time to polish the surface. Run the trowel over the plaster in smooth even strokes while polishing, removing the marks left from the application troweling. Keep the trowel damp while polishing by dipping it into a bucket of water to avoid creating black burn marks on the surface of the plaster from the friction of the trowel. Allow the Marbelite coating to cure overnight.
Step 7
Fill the pool with water the next day using a hose with a deflector attached to the end to avoid damaging the Marbelite surface from the water's pressure. Keep the Marbelite damp while filling the pool, spraying it down hourly.
Step 8
Brush the Marbelite daily for the first three weeks with a soft pool brush, and back-wash everyday as well. Vacuum the pool daily to remove any waste. Do not clean the pool with an automatic pool cleaner during the first three weeks after application to avoid damage to the new surface.