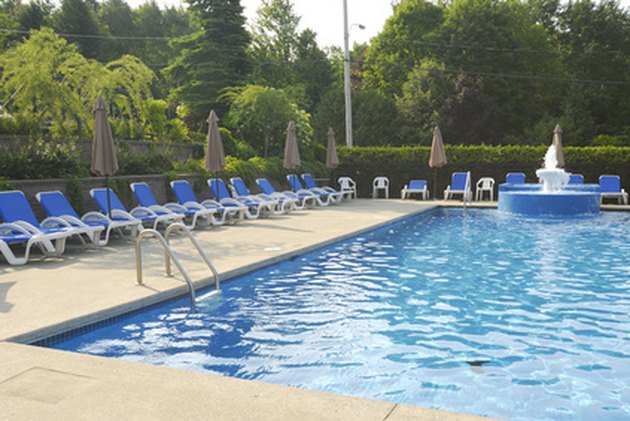 Owning a swimming pool involves regular maintenance routines that include cleaning, adding chemicals and vacuuming. Each task has a certain amount of frequency involved that varies from task to task. Vacuuming is necessary to maintain a pool that is free from debris and other contaminants. There are different styles of vacuums from automatic to manual.
When to Vacuum
When scheduling the different aspects of routine pool maintenance, a weekly vacuuming is essential to clear water. It also serves to avoid the frequency of adding sanitizing chemicals to the pool on a constant basis. Although testing the levels of the water is a daily task, the frequency of vacuuming once a week helps to maintain adequate chemical levels.
Indications to Vacuum
There will come a time when it is necessary to perform spot vacuuming to clear the pool of debris that may come from a summer storm. Using a pool cover during times of inclement weather is a good practice but not always feasible under every situation. Consequently, it is always good practice to check the pool daily when testing chemical levels to determine if it is necessary to vacuum more often than once a week.
Seasonal Vacuuming
Preparing your pool for summer use and winter storage is another time when a thorough vacuuming is warranted. After draining the pool at the end of the season and prior to filling it at the beginning, vacuum the pool completely to remove the sediment from the bottom and anything that may be sticking to the walls. By giving your pool a good cleaning before winterizing it, you can eliminate or lessen the volume of work necessary to open the pool come summer.
Procedures
Always set the pump on the filter cycle and leave it running when vacuuming. Starting at the shallow end, slowly work the vacuum across the pool in a back and forth manner, finishing in the deep end. As you work toward the edges, sweep up along the walls to clean any attached debris. Take your time; don't rush through the process. You want to do a thorough job, as this will aid the filtering system.
---
Keith Allen, a 1979 graduate of Valley City State College, has worked at a variety of jobs including computer operator, medical clinic manager, radio talk show host and potato sorter. For over five years he has worked as a newspaper reporter and historic researcher. His works have appeared in regional newspapers in North Dakota and in "North Dakota Horizons" and "Cowboys and Indians" magazines.