Western snowplows operate hydraulically, using an electric pump to drive fluid to a ram inside the pump and the pistons on the plow. The pump looks like an electric motor with power cables and hydraulic lines attached to it. It's located on the plow's mounting frame, in front of the plow vehicle's grill. The pump must be full for the snowplow to work properly.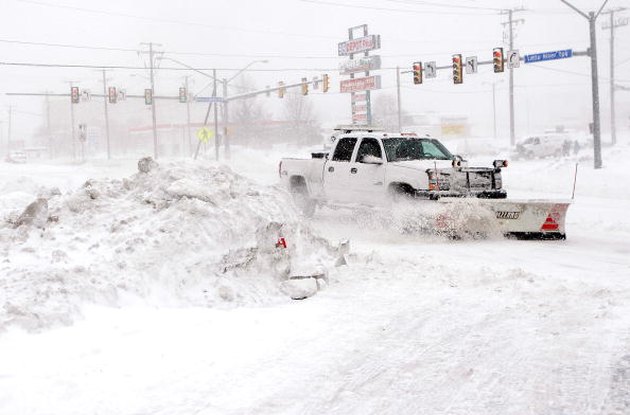 Step 1
Depress the ram into the Western snowplow pump by moving the control lever inside the plow vehicle's cab to the down position until the ram is all the way down. The ram is a hydraulic piston inside the pump, which attaches to the lift arm to raise and lower the plow.
Step 2
Clean all grease, dirt and hydraulic fluid from the area around the pump's drain plug with one of the shop rags. This will prevent dirt or other foreign matter from getting into the hydraulic reservoir.
Step 3
Remove the fill plug on the top of the snowplow pump by turning it counterclockwise with the adjustable wrench.
Step 4
Open a container of the non-synthetic automatic transmission fluid and pour it into the hydraulic reservoir on the Western snowplow pump until it is full.
Step 5
Move the plow up and down and from side to side several times to purge any air from the system. If necessary, add more transmission fluid to fill the reservoir.
Step 6
Replace the filler plug and tighten it by turning it clockwise with the adjustable wrench. Wipe off any spilled fluid with a shop rag.