A dirty carburetor can affect the performance of your Toro snowblower. Gunk and other buildup can inhibit the carburetor's ability to regulate the flow of fuel into the engine system. Cleaning the carburetor takes just a few basic tools and can be done within an hour. On most Toro models, the carburetor is located under the heater box to protect it from the harsh winter weather.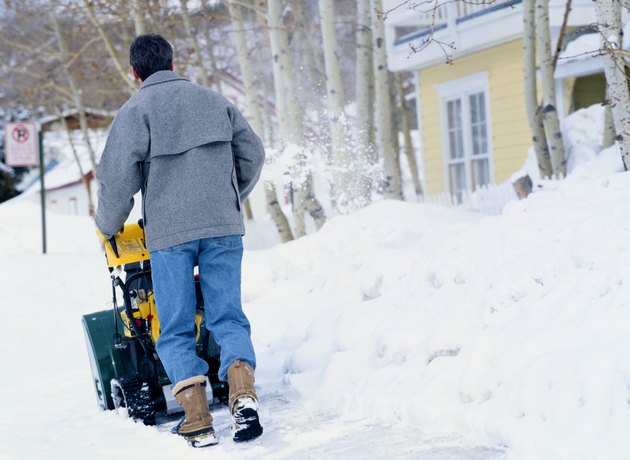 Step 1
Run the snowblower engine until it is out of fuel to prevent gasoline from leaking while you are cleaning the carb. Park the snowblower on a level spot on the driveway or in the garage. Locate the black spark plug wire on the top of the engine, slightly behind the choke knob. Detach the wire from the plug by pulling on the plastic coated wire. This will prevent an unexpected start-up while the unit is being serviced. Let the engine cool before beginning to work on it.
Step 2
Locate the heater box on the front, right side of the engine. This metal box covers part of the carburetor. Loosen and remove the screws on the side. If your model has a hex nut on the top side of the heater box, loosen and remove it. Remove the heater box. On some models, you may have to pull the choke knob to help free the box.
Step 3
Remove the carburetor by loosening the attachment screws. Place the carburetor in liquid carburetor cleaner. Allow it to soak for about three hours. Rinse the carburetor with water. Make sure all of the holes are free of debris. Use a cotton swab to clean out any impurities in the holes.
Step 4
Reattach the carburetor to the engine. Place the heater box back in place and tighten the screws and hex nut. Reattach the spark plug wire. Fill the tank with fuel.