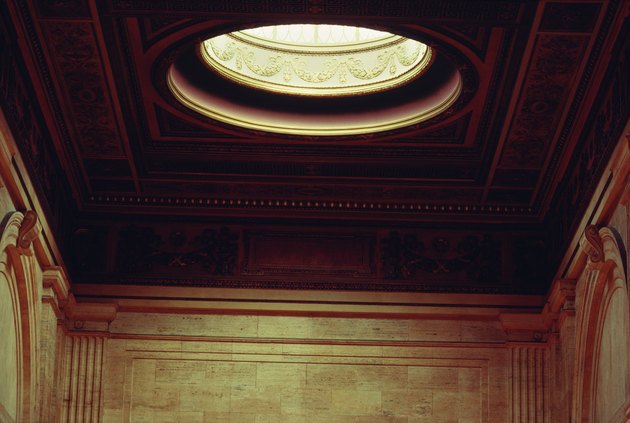 If you are switching your cooling from a swamp cooler to air conditioning or central air, you may end up with a dilemma. You may not know if you should leave your swamp cooler on the roof or remove it. If you remove it, you may not know what to do with the hole in your roof. You probably have interior vent holes to deal with as well. There are several options, one of which is sure to fit your budget.
Skylight
Installing a skylight in the swamp cooler hole is not a simple task, but is one that most people can afford. It also has the added benefit of lighting the interior of your home and lowering the electric bill. You will probably need to make the hole larger. If you plan to do the work yourself, an oscillating tool equipped with a cutting disc is best for the job. You will need to do some framing within the attic and the interior ceiling. Your purchased skylight should come with all the instructions you need; otherwise you may be able to find what you need online.
Solar Tube
Installing a solar tube after you remove a swamp cooler is probably the most costly option but one that has many benefits down the road. A solar tube brings natural light into your home. Installing a solar tube is easier than installing a skylight because a kit comes with extension tubes, enough for several feet of attic space. A person could actually install a solar tube for each interior vent hole, but you would have to cut a hole in the roof for each one. One advantage of solar tubes over skylights is that the holes in the roof are smaller. You may need to reduce the size of the hole your swamp cooler had covered.
Attic Fan
It is best to remove the ductwork from your attic when you remove a swamp cooler from the roof. This is due to the development of condensation within the ducts, leading to mold growth. If you choose not to remove the ductwork, you could install a large attic fan in the roof void. This is an inexpensive and easily accomplished task. You already have the electricity hook ups left over from the swamp cooler, but you will probably have to adjust the hole size to fit the fan.
Roof Patch
The least expensive and most feasible option is to do a roof repair job to fix the hole in the roof. After removing the swamp cooler, you will frame the hole to fit a piece of roof substrate and some shingles. Hopefully, you have some left over from your last roofing replacement so they match. Otherwise, match your roof with new shingles as closely as possible. Another option is to wait on removing the swamp cooler until you plan to re-roof your home. Don't forget to remove the ductwork in the attic and patch the interior holes.
---
Kimberly Hawthorne has been writing since 1980, currently contributing to various websites. She specializes in human and animal health issues, gardening and crafts. With over 11 years experience she is an expert in home improvement, remodeling, repairs and the tools used to get the job done right.