Things You'll Need
Tape measure

Tin snips

C-clamps

Long wooden board

Work gloves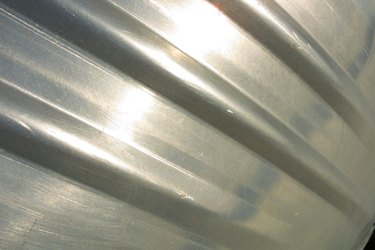 Aluminum flashing is a lightweight but durable sheet metal that does not rust. It is used on roofs near chimneys and sometimes near windows to prevent rainwater from seeping down into the seams along the roof. Since flashing is sold in rolls, you must cut and bend it to fit the area of the roof where you are installing it. Bending aluminum flashing requires only basic construction tools and skills.
Step 1
Measure the length of aluminum flashing that you need for your roofing project, using a tape measure. Cut the flashing off of the roll with tin snips.
Step 2
Lay the flashing flat on the ground. Position a long wooden board lengthwise along the point where you want to bend it.
Step 3
Secure the board to the flashing by placing three to four C-clamps at equally spaced distances along the board. Place the open section of each clamp over the board and the flashing. Twist the top screw clockwise to tighten it against the materials.
Step 4
Put on a pair of work gloves. Grasp the edge of the wooden board with both hands, bending down if the board is on the ground. Roll the wooden board firmly over to create a bend in the aluminum flashing.
Step 5
Turn the screws on the "C" clamps counterclockwise to open them. Remove the clamps and set them aside. Remove the wooden board from the flashing. The flashing will remain bent at the angle you created.
---
Kimberly Johnson is a freelance writer whose articles have appeared in various online publications including eHow, Suite101 and Examiner. She has a degree in journalism from the University of Georgia and began writing professionally in 2001.