The US Energy Policy and Conservation Act created limits on the amount of water allowed to pass through showerheads. Measured in gallons per minute or gpm, the maximum allowed by law is 2.5 gpm. A home's incoming water pressure can alter the amount of pressure from the showerhead; for example, a home with a pressure of 60 pounds per square inch (psi) produces 1.5 gpm and at 80 psi, it yields 2.5 gpm.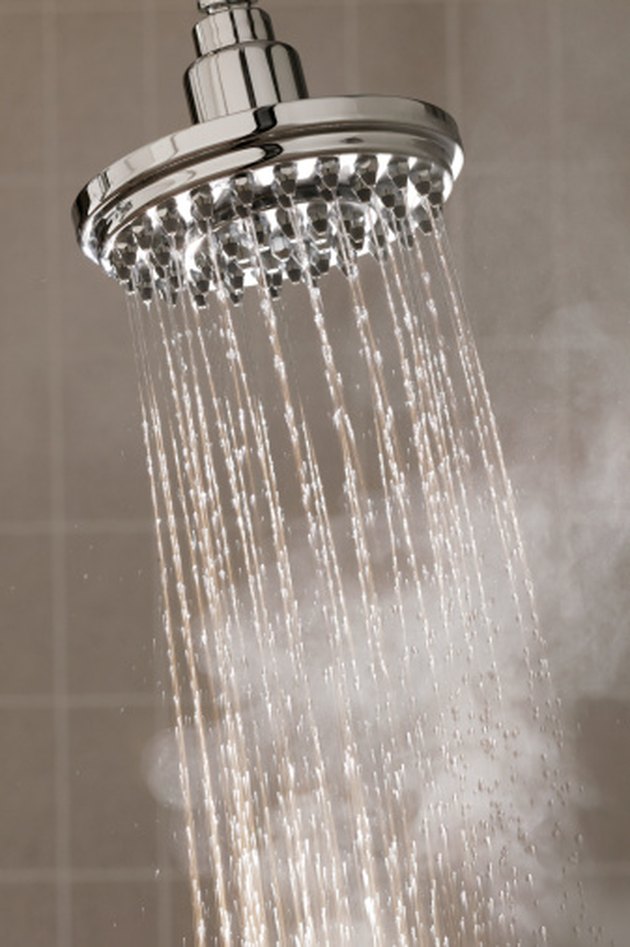 High-Pressure Showerheads
The folks over at Highpressureshowerheads.com have tested mainstream traditional showerheads for their pressure ratings. The highest-rated model was found to put out a powerful 97 psi. Other styles of high-pressure showerheads include a rain showerhead that rates at 94.5 psi and a hand-held massage head, which comes in at 89.8 psi. These showerheads are typically priced from $18 to $60.
Delta Water Amplifying Showerhead
The Delta Water Amplifying showerhead with H20Kinetic technology offers a modern design look for an economic price. The showerhead's flow rate is adjustable from 1.85 gpm to 2.5 gpm. You determine what pressure you want with ease. Delta designed this showerhead with their patented water motion technology. The motion of the water keeps the showerhead free from clogs caused by water imperfections. The Amplifying showerhead is priced around $30.
The GROHE Relexa Ultra showerhead literally drips with luxury. Available in three finishes -- nickel, chrome or bronze -- and priced around $200, the Relexa Ultra has a flow of 2.5 gpm at a water pressure of 80 psi. Featuring GROHE's DreamSpray Technology that evenly distributes the water flow throughout the nozzle, the GROHE also includes patented SpeedClean anti-lime technology and an adjustable head. The Relexa Ultra is comprised of five spray choices for the ultimate shower experience, including the normal spray, jet spray, champagne spray, rain spray, and massage spray.
Speakman Anystream Classic Dual 96 Spray Showerhead
If you are looking for a luxurious, commanding showerhead, then the Anystream Classic Dual showerhead is perfect. Created by Speakman, a company 140 years in the making, this showerhead delivers. It packs a punch with features including two, six-jet heads with 96 spray patterns, fully adjustable arms, easy-to-change flow patterns plus the Speakman's trademarked Anystream cleaning technology. Never clean another faucet again; it does it for you. Priced around $200, it has a chrome finish and a brass structure.