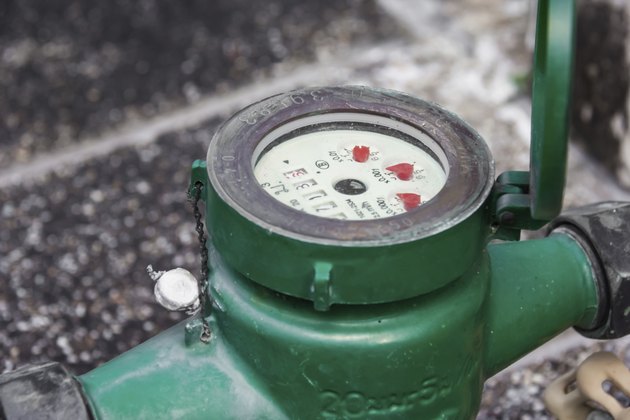 Some water meters may be on a wall outside the home or garage, in the ground in a box, or atop the main water feed line. Some come equipped with a metal cover that fits over the glass viewing port where a gauge records water usage. To protect your water meter during inclement weather and to keep water from freezing in the pipes, you can insulate it with a jacket sized for your meter or use insulation engineered to fit around pipes.
Water Meter Insulation
Pick up a water-meter jacket insulation for the type of meter you have. Most insulating jackets cover the entire meter with openings at the top and bottom for the pipes. Wrap the meter in the jacket and tie off the ends with the cords provided. Other types of insulation include a hardened foam that is form-fitted to the meter that you slip over the meter itself and secure at the top and bottom with a clip strap. If your water meter is in a box in the ground with a lid, line the box with standard household faced insulation to keep it from freezing and cut a piece of insulation to set atop the meter beneath the lid, which can be easily moved for reading.
Pipe Wrap
You can insulate your water meter with pipe-wrapping insulation held in place with a tape made for wrapping around the foam material. When wrapping the water meter with this type of insulation, leave the glass window exposed so the water agency can read your usage. For long pipes near the water meter, use preformed foam insulation that slips over the pipes along the slit provided. Wrap pipe-wrapping tape at either end to keep it in place. Some pipe wrapping insulation comes with a cable you plug in that keeps the pipe warm to prevent freezing.
---

Laurie Brenner
As a native Californian, artist, journalist and published author, Laurie Brenner began writing professionally in 1975. She has written for newspapers, magazines, online publications and sites. Brenner graduated from San Diego's Coleman College.