Poly gas pipe, or polyethylene yellow gas distribution pipe, is a popular underground solution for burying natural gas line in North America. Poly gas pipe comes in solid sticks of varying length, as well as in rolled coils. Standard 1-1/4-inch Poly pipe is used for most residential natural gas services. In some cases, where the main gas pressure is medium pressure, a smaller ¾-inch pipe is used. Contact your county or state building code enforcement department for legal permits where required.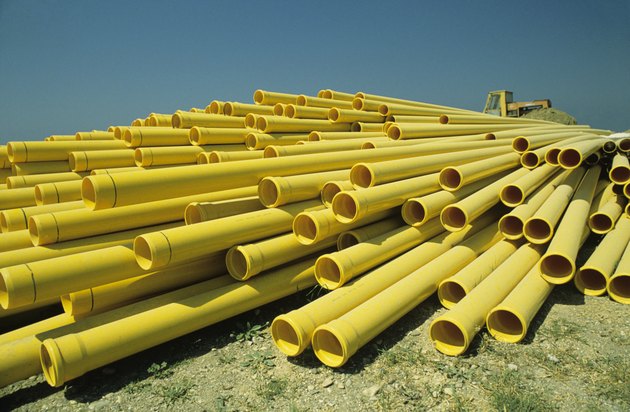 Step 1
Excavate your trench by digging a minimum of 12 inches wide and 20 inches deep. Use a shovel to dig the trench by hand, or rent a chain trencher or backhoe. The minimum depth recommended by the manufacturer of the PolyPipe brand, to the top of the poly pipe, is 18 inches. This is to protect the pipe from freezing and crushing hazards. Remove any sharp debris in the bottom of the trench to prevent puncturing the plastic poly gas pipe.
Step 2
Connect the poly pipe on the house end of the trench first. If you have chosen the mechanical riser connection, slide the compression nut and seal ring about 3 inches onto the poly gas pipe. Insert the pipe into the bottom of the riser until it is seated against the back of the barbed metal insert. Slide the compression ring into the space between the pipe and riser threads. Screw the nut on the riser threads by hand, and then secure it with an 18-inch pipe wrench.
Step 3
Lay the poly pipe down the trench in a side-to-side zigzag pattern. This is will provide room for the pipe to expand and contract without stress on the compression joints. Hammer wooden stakes into the bottom of the trench every 5 feet to hold the poly pipe in position.
Step 4
Place the end riser in position. Lay the poly gas pipe over the end of the riser compression joint and cut it with a hacksaw to fit. Remove any rough edges from the cut end of the pipe. Slide the compression nut and seal ring on the cut end of the gas pipe. Insert the end of the pipe into the riser compression joint. Slide the seal ring into position and secure the nut with your pipe wrench.
Step 5
Test your gas line installation according to your state and/or municipal code regulations. In most instances this is done by capping the house riser and pressurizing the line with compressed air.
Step 6
Back fill the trench with the same material you removed when excavating. If the removed material contains sharp rocks and debris, cover the poly pie with at least 6 inches of fill sand before using the old material. This will prevent punctures of the gas line and extend its life.