Things You'll Need
Stakes

Hammer

Warning tape

Wrench

Screwdriver

Rake

Shovel

Hazardous material disposal bags

Chlorine bleach

Power washer
Tip
Contact local waste management professionals for disposal of the bags filled with contaminated dirt.
Warning
Wear protective clothing and goggles while working with the spill. Always wear rubber gloves and wash thoroughly after completion of the job.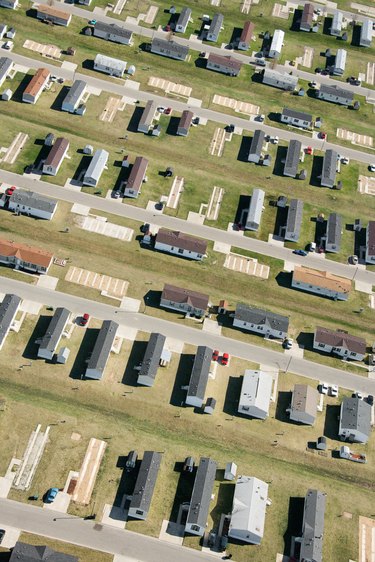 Proper cleanup of a sewage spill under a mobile home eliminates health hazards to the occupants of the home and surrounding areas. When raw sewage leaks under a mobile home, fecal matter and bodily fluids are released. These substances can contain E. coli and other bacterial toxins that may cause illness and disease. With the appropriate steps, the contamination may be contained and the hazard eliminated.
Step 1
Stop the source of the spill. This may mean turning off the water to the home or calling a plumber to rectify the problem.
Step 2
Place warning tape around the area. Hammer wooden stakes into the ground around the property and connect with warning tape to keep onlookers away.
Step 3
Remove the skirting on the mobile home closest to the source of the spill. Remove the entire side of skirting on the home for easier access to the area. Use a wrench or screwdriver, depending on the skirting, to undo the bottom bar. Slide out the pieces of skirting and place to the side.
Step 4
Rake and shovel out the top layer of dirt from under the mobile home. Start with the dirt closest to the opening and work toward the opposite side. Place the dirt in hazardous waste disposal bags to be disposed of properly.
Step 5
Mix 1 part chlorine bleach to 10 parts water in a power washer. Spray the entire area under the mobile home with the mixture on a low stream.
Step 6
Allow the area to dry. Do not remove the tape from around the property or replace the skirting on the home until the ground dries. This may take more than 24 hours.
---
Sidney Johns began her writing career in 1993 after moving to Florida. The former teacher and surgical technician worked in the home improvement industry prior to earning a Bachelor of Science in education from Indiana University. While on hiatus in 2004, Johns studied holistic healing and organic growth and gardening.