Things You'll Need
Tape measure

Reciprocating saw

Roof shoe

Helper

Roofing nails

Hammer
Tip
Remember when nailing shingles that each shingle must be secured underneath the one that lays above it. Nailing straight through the shingles will cause leaks in your roof.
Warning
Do not nail the bottom of the roof shoe to the roof. Doing this will promote a location for leaks in your home.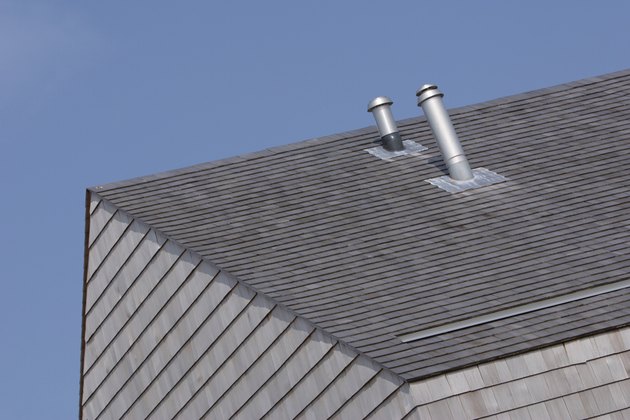 Plumbing vent pipes are connected to your drain system and are needed for water to drain properly. When water drains, air must replace the space that was taken up by the water. Vent pipes provide this air by running outside the structure of the house. Running a vent pipe out of the roof takes some careful preparation. If the vent pipe isn't installed properly, the roof may leak through or around the pipe penetration, leading to costly repairs.
Step 1
Go into your attic. Position the vent pipe up to the bottom of the roof. With the pipe in a vertical position, trace around the pipe, using a pencil. The penetration will be oval -- to have a round pipe exit vertically through a pitched roof, you need an oval hole in the roof.
Step 2
Cut through the plywood and roofing material with your reciprocating saw. Follow the outline you marked out.
Step 3
Measure the length of your roof shoe with a tape measure.
Step 4
Climb onto the roof. Loosen the shingles above the hole you cut, the distance from the center of the roof shoe to its edge.
Step 5
Lift up the shingles. Slide the roof shoe under them.
Step 6
Have a helper in the attic slide the vent pipe up through the roof shoe from below. Make sure the pipe is at least 12 inches above the roof surface.
Step 7
Nail the roof shoe to the roof's plywood sheathing with roofing nails. Nail down the shingles you loosened.
Step 8
Connect the vent pipe into its designated piping system. Each system, amount of pipe and fittings will vary.
---
Elizabeth Knoll has been writing full-time since 2008. She has a deep love for gardening and has spent a vast amount of time researching that subject. Her work appears on various websites. Knoll received a certificate in Early Childhood Education from Moraine Park Technical College.