Threads on a pipe are an important mechanism to keep two pipes connected and free of leaks. The threads on the end of a pipe can become damaged and should be repaired to avoid disaster. The material pipes are made of can vary and some metals are easier to repair than others. For example, copper is softer and more easily repaired than steel. Whatever the material, however, the process is the same.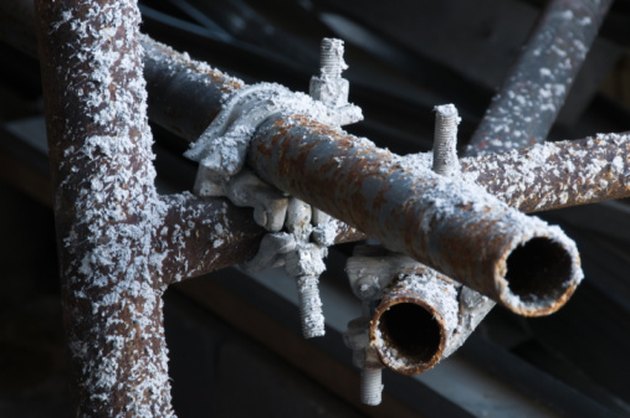 Step 1
Mount the pipe in a pipe vise. It must not move. The pipe should stick out from the vise no more than 12 inches.
Step 2
Wipe the end of the pipe with a clean rag and remove any dirt or debris. Lubricate the end of the pipe with cutting oil.
Step 3
Fit a pipe die over the end of the pipe. It must line up perfectly so the threads can be repaired correctly. If it is not lined up, the threads will be crooked. Turn the pipe die clockwise onto the existing threads one-quarter turn if possible. If the threads are too damaged, this will not be possible.
Step 4
Grasp the handle of the pipe die and turn it clockwise a half-turn. Turn it counterclockwise a quarter turn. Turning back like this will eject any metal filings generated by the die. Wipe away any debris with the rag.
Step 5
Continue the half-turn-clockwise, quarter-turn- counterclockwise procedure until you work the pipe die onto the end of the pipe. It should cover the existing, damaged threads. However, it should not cover more than the width of the pipe die.
Step 6
Turn the pipe die counterclockwise until it comes off the pipe. When it is almost off the pipe, hold it in place so it comes off the pipe straight. You don't want to damage the new threads.
Step 7
Wipe the end of the pipe with a clean rag. Tap the pipe die on a table to dislodge any metal filings that may still be inside.