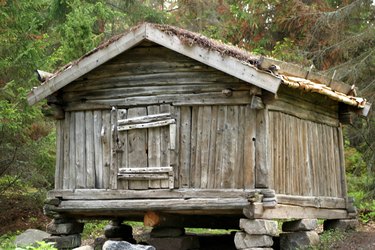 The paint on wood sheds left out in the elements will eventually show signs of wear, even if you took steps to seal the original paint. It may take years before a painted, sealed shed starts to crack and peel, but it happens eventually. If your shed needs some sprucing up, take the time to do the job right and completely refinish the exterior walls.
Strip the Original Paint
Stripping the original paint is particularly important if it is cracked and peeling -- if you were to paint over this, all of the cracks and other damage would show through the new paint. It's best to start with a clean, smooth surface. You have two choices for stripping paint: chemicals or sanding. A handheld belt sander will strip away the original paint, but if you are not comfortable with power tools, chemical solvents are the way to go. Typically, you paint the solvent on, wait for a short time and then scrape the surface with a paint scraper or putty knife. However, manufacturer's instructions vary and should always be read thoroughly before use.
Cleaning the Wood
You should give the wood a thorough cleansing no matter which stripping method you used, though it is especially important if you used the chemical process. Mix a solution of 1 cup trisodium phosphate to 4 gallons of water and uses this to scrub the entire surface of the shed. This will help lift any old oil stains and remove all residue leftover from the stripping process. Rinse the shed and allow it to dry thoroughly.
Painting vs Staining
With the wood stripped and clean, you now have a choice to make. You can opt to paint and cover up the natural wood, or you can use a stain to enhance the wood grain while adding color. Whichever you decide, make sure you buy a product that is made for exterior surfaces and contains a waterproofing agent--both of these will be mentioned on the label. Typically, exterior, waterproof stains and paints are oil-, acrylic- or latex-based.
Application
If you chose to go with stain, you can start applying it immediately with a brush, roller or rag--always apply with the grain. If you decided to go with paint, it is recommended that you paint on a waterproofing primer first. Once this is dry, you can paint over the primer using a brush, roller or sprayer--painting with the grain is not as important here, but your brushstrokes should always be in the same direction. Whether you used paint or stain, you must apply a compatible waterproofing sealer to keep it safe. See the label for compatibility information, as well as detailed application and drying instructions.
---
Jarrett Melendez is a journalist, playwright and novelist who has been writing for more than seven years. His first published work was a play titled, "Oh, Grow Up!" which he wrote and performed with a group of his classmates in 2002.