A simple plastic bag can create texture when pressed into wet drywall compound. Texture hides wall imperfections such as bulging drywall seams or rough surfaces. The texture is often used on ceilings, because it is very difficult to have a perfect drywall installation. Besides being visually interesting, textured drywall acts as a sound barrier in rooms with hard floors and high ceilings.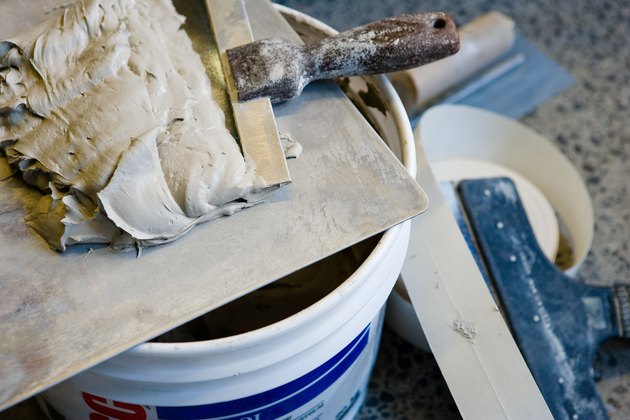 Though any plastic will work, some forms are better than others. Use the thinnest plastic sheeting you can find and crumple it up into a small ball. If you are using garbage bags, the less expensive versions are often thinner and create a more visually appealing texture. The thicker plastics generally create large indentions and do not look as professional. If you are using grocery bags, always turn the bag inside out, so the print is in the inside of the bag.
Roll joint compound onto your drywall surface. Stamp the plastic bag into the wet plaster to create texture. Wear gloves when creating texture to prevent the plaster from drying on your hands. Have plenty of bags or plastic available. Eventually, the plastic becomes saturated with plaster, and a new bag must be used. Make sure you turn the crumpled plastic bag each time you make a new impression so you are not making the same imprint repeatedly on the wall.
Once the entire surface is covered with plaster and stamped, allow the finish to dry about 24 hours. Lightly sand the surface with light grit sandpaper to remove any lose drywall crumbs. Using a roller made for textured surfaces, paint the surface with one coat of primer and then follow with one to two coats of latex paint.
Glaze is an optional finish often added over hand applied finishes, such as the plastic bag technique. Mix together one part paint and three parts glaze. Often, a dark umber paint will create an antique and distressed look. Brush on glaze over the textured surface. Use a terry towel to pat the surface, pushing the glaze into the crevices created by the plastic bag.