Things You'll Need
Gloves

Mask

Tarp

Chemical paint stripper

Paint scraper

Dish washing soap

Bucket

Water

Sandpaper

Wood filler

Putty knife

Stain

Rags

Paste wax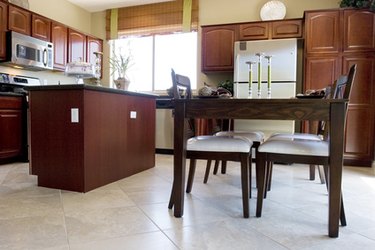 Your kitchen table is the place your family meets to share a meal and talk about the day. You use it to read the paper, do homework and host your friends for meals. Your wooden table is bound to get some nicks and scratches. Don't let a worn-out kitchen table bother you for another day. You can easily fill in the scratches while refinishing the table. You will have a table that looks brand new in no time.
Step 1
Put on a mask and gloves. Apply a thick coat of chemical paint stripper to the surface of the wooden table. Allow the stripper to sit on the surface of the table for 20 to 30 minutes.
Step 2
Hold a paint scraper an arm's length from your body. Apply the scraper to the wood and pull towards you. The paint or varnish will lift from the table. Continue until you have removed most of the paint or varnish.
Step 3
Mix a small amount of dish washing soap and warm water in a small bucket. Dip a sponge into the mixture and wring it out to remove most of the water. Wipe the table to remove the chemicals. Rinse the sponge often as you clean. Let the table dry completely.
Step 4
Sand the table with fine-grit sandpaper. Sanding will remove any remaining paint or varnish and soften the wood. Sand until the surface is soft and smooth. Wipe off the sanding dust with a damp cloth.
Step 5
Dip a putty knife into wood filler. Fill grooves and gouges in the table with the putty. Choose a stainable wood filler. Slightly overfill the groove and then allow the putty to dry according to package directions.
Step 6
Sand the wood putty with fine-grit sandpaper until the surface is smooth and even with the rest of the table.
Step 7
Submerge a clean, soft rag into the stain and wipe it on the furniture. Rub firmly to work the stain into the wood grain. Wipe away any excess stain with a clean rag. Let the stain dry. Apply more coats of stain until you like the depth of the color.
Step 8
Dip a clean, soft cloth into paste wax. Rub the paste wax into the table. Apply three coats of paste wax to fully protect the finish.
---
Lisa East Hunter is a consultant and freelance writer in Phoenix. Her background in marketing and technology led her to explore all avenues of writing. She is currently dividing her time between freelance writing and her consulting business. Hunter has a Bachelor of Science in management information systems and marketing.