Things You'll Need
Safety protection

Respirator

Gloves

Disinfectant

Mildew-resistant paint

Sponge

Flashlight

Safety helmet

Knee pads

Dehumidifier

Heat source

Drying towel

Bucket
Tip
Consult a professional for mold and fungal testing before and after treatment. For long-term prevention, consider installing a concrete floor in the basement or crawlspace. If you have a dryer, make sure the dryer vent is directed outside and not into the crawlspace.
Warning
Using chemical solutions for treating fungal growth can be potentially dangerous to one's health. Be sure to follow directions for storage, mixing, and application. Also be sure that you know what to do in case you are contaminated by the chemicals.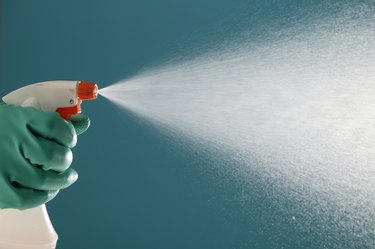 Keep a close eye for signs of fungus (mold) in your crawlspace. If left unchecked, fungus can easily grow on wood, in moist areas and even sandwiched between insulation and the flooring of the house. Fungal spores can creep into the rest of the house, causing health issues ranging from allergic reactions to more serious risks such as cancer, neurological disorders or immunosuppression, which will suppress your immune system from being able to fight off infections. If fungus is found in the crawl space, it needs to be removed immediately.
Removing Fungus From A Crawlspace
Step 1
Identify the areas that are infected with fungus as well as the potential source for increased moisture levels. Simply cleaning the fungus without addressing the moisture source will guarantee that the fungus will return and will need to be removed again. Prepare to deal with the moisture source in advance so that you can knock out the fungus in one punch. A vented crawlspace may need to be sealed, according to Inspectapedia.com, due to vents actually increasing the amount of moisture in a crawlspace. Also, while the crawlspace is being worked on, openings to living areas should remain closed as much as possible to keep spores from spreading.
Step 2
Test fungus samples. Certain cosmetic funguses are not dangerous and do not need to be addressed. However, if the moisture source is unchecked, then more serious types of fungi have the potential to develop. Taking samples to a professional will help to determine whether or not the fungus is potentially hazardous.
Step 3
Put on all safety equipment, including respirator and gloves, before entering the crawl space so that you do not inhale fungal spores or get contaminated by the cleaning chemicals.
Use fungus cleaning solutions to wipe down, scrub and clean moldy surfaces. Wipe using a clean sponge or rag. Standard household bleach is often used, however, bleach does not address spores that have not yet become active. A short list of appropriate chemicals include washing soda, trisodium phosphate, quaternary disinfectant, boric acid or pentachlorophenate. Many of these products can be found in paint and janitor supply stores.
Step 4
Rinse the surfaces with clean water and a sponge. Dry the area thoroughly with a clean towel. Since moisture is one of the main sources of fungal growth, leaving behind a wet, moist environment after cleaning negates the purpose of cleaning and removing the fungus. Keeping the environment clean and dry will help to prevent future fungal growth.
Step 5
Replace items with high concentrations of fungal growth. If fungal growth is occurring on wood materials, then applying a fungus and mildew-resistant paint will also help to prevent the fungus from forming again. Depending on one's level of familiarity with home improvement, it may be necessary to contract a professional to replace certain items in the crawlspace.
Step 6
Setting up a dehumidifier will help to reduce the moisture level in the crawlspace environment once it is sealed and any vents are closed. Setting up an air purifier will also help to reduce active spores in the air. Drain the dehumidifier daily. Also consider setting up a heat source, such as an electric space heater, to heat the air and infected areas to get the crawlspace areas dry as much as possible.
---
David McGuffin is a writer from Asheville, N.C. and began writing professionally in 2009. He has Bachelor of Arts degrees from the University of North Carolina, Asheville and Montreat College in history and music, and a Bachelor of Science in outdoor education. McGuffin is recognized as an Undergraduate Research Scholar for publishing original research on postmodern music theory and analysis.