Things You'll Need
Putty knife

Screwdriver

Brush

Sponge

Hair dryer

Grout sealer

Silicone caulk

Caulk gun

Haze cleaner

Rag

Liquid bathroom cleaner
Tip
There are different kinds of silicone caulk, so pick the best one for your bathroom and your shower floor. The best products are latex-based because they are flexible and adjustable.
Warning
Wear disposable latex gloves when working on sealing your shower floor, especially if you have sensitive skin.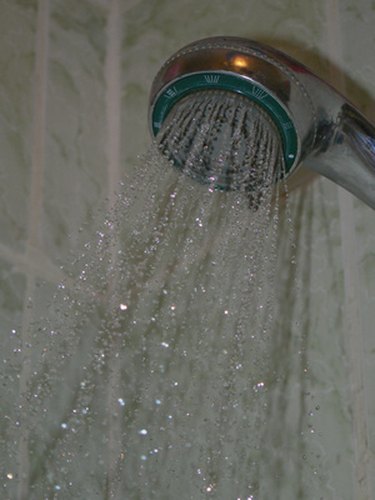 Tile shower floors are practical, visually attractive and can sometimes complement your bathroom more than shower tubs. However, tile flooring has many issues that need to be addressed to keep the tile shower area clean, healthy and sealed. Grout around the edges of the tiles can get stained and even crumbled, so the damage won't be just aesthetic but functional as well. That is why sealing a shower floor made from ceramic or other similar kind of tile is so important.
Step 1
Scrape any loose or excess caulk off your shower floor if needed. Use a putty knife or a screwdriver, depending on how much caulk there is and how well it's attached.
Step 2
Remove any grout haze from inside the grout lines between the tiles with haze cleaner and a rag.
Step 3
Clean your shower floor thoroughly, using a mixture of warm water and liquid cleaner. Use a scrub brush for tough marks and dirt and a soft sponge for fine cleaning. Rinse with warm water until you remove all detergent or soap residue and leave your shower floor to dry completely. This can take up to five days, but you can use a hair dryer to help the drying process. It is essential for your shower floor to be dry before the sealing.
Step 4
Apply grout sealer over the layer of grout. Grout sealer is a water-based sealant that is waterproof but also resists oil- and acid-based liquids.
Step 5
Apply silicone caulk over the seams between the shower tiles. Apply a thin layer and use a caulk gun for best results. Also note that the thickest layer of silicone must be along the corners of the shower.
Step 6
Remove the excess silicone caulk with a putty knife or your fingers. You can also wipe the excess silicone with a slightly damp sponge. Shape the corner silicone strip into a seamless shape. Leave the shower floor to dry for at least 12 hours.
---
Adam Raphael has been writing technical and health-related articles for a variety of online sources for five years. His articles have appeared on a variety of popular blogs and other websites.