Rats and other rodents can cause damage and bring disease into your home or business. Controlling them will depend on the size of the infestation that already exists. Rats and mice will eat the same foods that people eat and are attracted to places where the food is easily accessible. Trapping is an ideal way to kill the rodents, so you don't end up with dead rodents in inaccessible places to create bad odors or invite insects. Poisoning should be used with caution and only when there is a large population of rodents.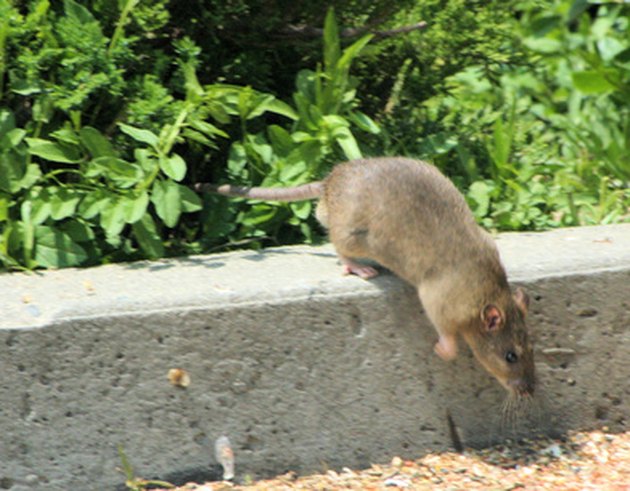 Step 1
Look for gnaw marks, rodent droppings or newly chewed holes on baseboards or inside cabinets to find where the rodents are coming into the house.
Step 2
Bait snap traps by wrapping a small piece of gauze around the trigger of the trap and tying it on with a piece of string. Spread peanut butter, squish some dried fruit or smear some bacon grease onto the gauze. Using several traps at the same time is more efficient than just one.
Step 3
Set the traps and place near the location you saw the signs of the rodent. Be careful not to place them where your children or pets will be able to get to them. Rat traps should be no more than 20 feet apart and mouse traps, 5 feet.
Step 4
Remove the dead rodent wearing rubber gloves and place in a bag. Discard in the trash outdoors
Killing Using Rodenticides
Step 1
Place bait inside a tamper-proof bait box if the bait you purchased does not come in one already. The box should prevent children and pets from being able to reach the bait.
Step 2
Put the box in an area inside the house where you notice rodent droppings or gnawings but where a child or pet cannot reach it or get access to it. Outdoors, the bait boxes should be secured so a pet or other animal cannot carry them away.
Step 3
Follow manufacturer's directions on how much bait to use per box. Each type of bait will have its own instructions.
Step 4
Patrol your home and yard a few times a day to find the rodents once they die. Place the dead rodents in a bag and discard.