Things You'll Need
Flat-head screwdriver

Three AAA batteries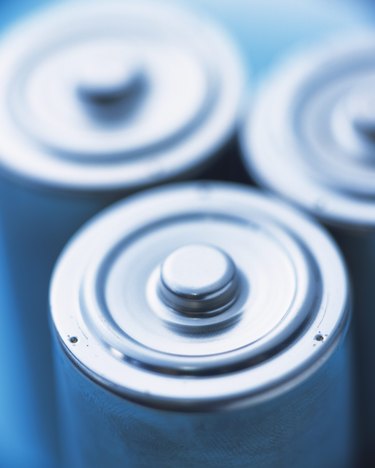 The Honeywell Chronotherm III uses three AAA batteries to power its digital display and store and run programmed settings. When the batteries require replacing, the display screen shows "REPL BAT." When you see this message, replace your batteries as soon as possible. The thermostat can store your program settings for only 20 to 30 seconds after the old batteries are removed, so be ready to install the new batteries quickly.
Step 1
Switch the thermostat to "OFF." Open the cover on the front of the unit.
Step 2
Remove the two screws from the lower left and right corners of the unit's body, using a flat-head screwdriver. Gently grasp the thermostat and pull away the bottom, then pull the thermostat up to unhook it from the mounting base. Turn the unit around to view its backside.
Step 3
Remove the old batteries and install the new batteries, making sure the positive (+) post of each battery is facing toward the right. Remember, you must swap out the batteries within 20 to 30 seconds to prevent losing the programming.
Step 4
Reconnect the top part of the thermostat to the mounting base, hooking the tabs on the unit onto the fittings of the base. Push the bottom part of the thermostat down until it clicks into the base. Reinstall the two screws.
Step 5
Check the thermostat's programming. If it was erased, simply reprogram it as desired.
---
Leonardo R. Grabkowski has been writing professionally for more than four years. Grabkowski attended college in Oregon. He builds websites on the side and has a slight obsession with Drupal, Joomla and Wordpress.