Things You'll Need
Phone line

Measuring tape

Phillips head screwdriver

Staple gun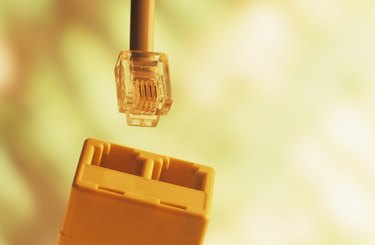 Relocating a phone jack requires only a few tools and is a moderately easy project to complete. Your three primary concerns should be to ensure that you have enough phone line to complete the relocation, that you turn off the power to the line while you are working and that you know where you want the line to be relocated.
Preparation
Step 1
Determine where you want the jack to be located. This is important because if it is in a completely different location, or room, you may need to purchase more phone line to relocate the jack. Measure your current line to see if it will reach to the location you have chosen.
Step 2
Flip the switches in the main phone box outside to "off," or disconnect the line connected to its own jack in the box, depending on what type of outdoor phone box you have.
Step 3
Remove the cover to the phone jack that is already installed. Inside the box you will be able to see that the phone jack is mounted to the wall with one or more screws. Use a Phillips head screwdriver and remove the box from the wall, keeping the screws handy for reinstallation.
Connect
Step 1
Disconnect the wire currently connected to your box from the telephone line if you are adding more telephone line. These will traditionally be the red and green wires. Also disconnect the other end of this wire from the main phone box. Use the screwdriver to accomplish this.
Step 2
Run the new line from the main box to the jack and connect both ends exactly the way that they were connected for the old line – red-to-red and green-to-green (see Reference 1).
Step 3
Secure the wall jack to the wall of the new location using the screw you saved and a drill (see Reference 2).
Step 4
Secure the line to the interior and exterior wall as needed with a staple gun.
Step 5
Turn the phone line back on at the main box.
---
Patrice Lesco has been a writer since 2001. Also a certified teacher, she writes for newspapers, magazines, books, theater and film. Lesco holds a Master of Fine Arts in theater from Michigan State University, as well as a Bachelor of Science in education and theater from Methodist College.