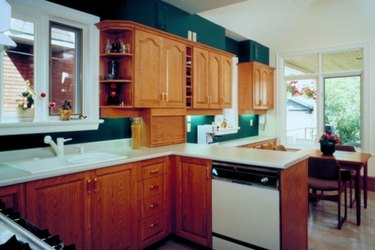 Shelf paper has long been a staple in homes and is used as both a protective coating and a decorative accent. Some shelf paper has an adhesive backing that affixes directly to the shelf or drawer. Other varieties are free-standing, making them easier to replace. Whether for protection or decoration, some alternatives may do the trick.
Protective
Shelf paper used in the kitchen, the bathroom and even the garage is primarily used for protecting surfaces from food, dishes, medicines, cans and other items that can be abrasive. Heavy-duty clear vinyl is a practical alternative that offers protection while letting you see what is underneath. It can be purchased by the roll and cut to size. Oilcloth is another sturdy option that can be cut to size and will stay in place because of its weight. It comes in a large variety of colors and patterns, adding personality to its functionality. Natural cork offers cushioning for fragile items as well as protection from items that can cause damage, such as knives or tools. Cork is also an absorbent, so it will work well in kitchens and bathrooms.
Decorative
In some areas of the home, shelf paper is more for decoration than for protection. Bedroom and linen closets can be lined with shelf paper alternatives that add color, enhancing the room's decor. Consider wallpaper as a shelf liner alternative. Use a matching or contrasting color or design to create a tied-together look. Fabric is another alternative that offers a variety of color and pattern designs. Trim the fabric with pinking shears for a finished edge. For a whimsical look, use maps or travel brochures from favorite vacations or places you have lived. Place mats can be used to line shelves or drawers. This can be an economical alternative if you shop the clearance bins in home decorating stores.
Inexpensive
If you need shelf paper alternatives that won't break the bank, consider a number of inexpensive ideas. Freezer paper offers a clean, fresh look at a very reasonable cost. The wax coating provides a layer of protection from moisture and food crumbs. Unprinted newspaper is another option that is extremely cost-effective. Check with your local newspaper publisher to see if it sells ends of rolls cheaply. Brown kraft paper is sturdier than newsprint and offers more protection, but little in the way of decoration. Have the children draw designs with markers to add some flair.
Tips
If you are going to use an alternative to shelf paper, consider a few tips that might make this do-it-yourself project more successful. Clean the surface thoroughly before covering it. If telltale odors are present, sprinkle baking soda on the surface and place unlighted scented candles on it. Let them sit for a day or two, then remove the candles and clean off all baking soda residue.
Traditional contact paper is self-adhesive. If you want your alternative choice to be affixed to a shelf or cabinet drawer, consider a lightweight adhesive such as a glue gun or two-sided tape. Adhesives can cause damage, so be sure your fixative is safe for the surface. Use rulers and tape measures to carefully measure the area to be covered before cutting.
---
Cindy Phillips began writing feature articles in 2007 with her work appearing in several regional newspapers. With more than 30 years experience in the corporate arena, her business expertise includes all aspects of marketing and management. Phillips earned a Bachelor of Arts in English education from SUNY New Paltz.