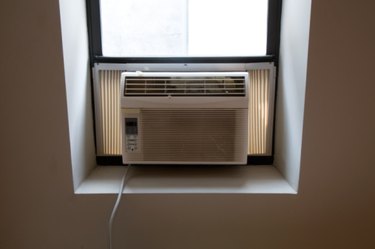 HVAC Licenses identity professionals qualified to work in the heating, ventilation and air conditioning industry. According to Education-Portal.com, there are a variety of careers HVAC licensees are qualified to pursue, including HVAC sales rep, air conditioning maintenance technician, refrigeration mechanic, HVAC technician, HVAC specialist, high-pressure refrigeration technician and small appliance technician. According to the Bureau of Labor Statistics, as of 2008, HVAC licensees earned an average wage of $19.08 per hour.
High School Diploma or GED Equivalent
Before acquiring the training needed to qualify for an HVAC license, you will need a high school diploma or GED equivalent. Students aware of their career aspirations before starting high school would be best served by attending a vocational or trade school program. According to the Bureau of Labor Statistics, students will need to complete coursework in shop math, applied physics, electronics, mechanical drawing, applied chemistry, blueprint reading and computer applications; students will also need basic knowledge and experience in electrical work and plumbing.
Professional Training
The Bureau of Labor Statistics reports that aspiring HVAC technicians can complete a professional training program in as little as six months. Programs are typically available at technical and community colleges. Students can expect to complete coursework in HVAC measurements, HVAC safety, HVAC industry overview, residential heating, airflow measurement, industrial heating, electricity and power distribution and control methods and temperature.
On-the-Job Training
Most state licensing authorities require applicants to have on-the-job experience in addition to professional training; according to the Bureau of Labor Statistics, the typical requirement is between two and five years. Usually, on-the-job experience is gained through helping seasoned HVAC technicians. Initially, assistants insulate refrigerant lines, carry materials or clean furnaces; eventually they progress to checking electronic and electric circuits, as well as cutting and soldering sheet metal and pipes.
Licensure
All states and municipalities do not have licensing requirements for HVAC technicians. For the ones that do, applicants typically need to fulfill certain education and experiential requirements, as well as pass a licensing examination. According to the Bureau of Labor Statistics, some licensing authorities also require applicants have a wealth of knowledge regarding electrical codes. For the fastest turnaround time, apply for licensure toward the end of fulfilling your experience requirement. This way, when you're finished, you can move straight into taking a licensing exam.
---
Oubria Tronshaw specializes in topics related to parenting and business. She received a Bachelor of Arts in creative writing from the Santa Fe University of Art and Design, and a Master of Fine Arts in creative writing from Chicago State University. She currently teaches English at Harper Community College in the Chicago area.