Tip
Troubleshooting your heating system would be similar, except that you should start with a thermostat setting cooler than the room temperature.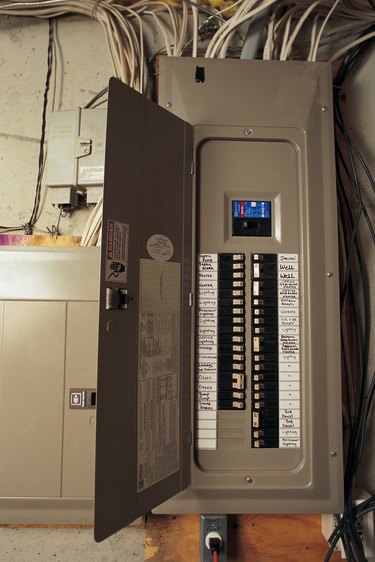 On occasion, a home air conditioning system will fail to come on at the beginning of the season or after a power outage. Before you call a professional, take a few minutes and follow a few simple steps to restart it yourself.
Step 1
Turn the control on the thermostat to "Off."
Step 2
Locate the breakers for the air conditioning and heating circuits in the main circuit breaker box. Usually these breakers consist of connecting pairs, since they involve 240 volt circuits.
Step 3
Pull the heating and air conditioning circuit breakers to the "Off" position. Leave them off for five minutes, and then turn them back to "On."
Step 4
Adjust the temperature setting on the thermostat to at least four degrees warmer than the room temperature reading.
Step 5
Turn the system back on by moving the thermostat switch to "Cool."
Step 6
Move the temperature adjustment on the thermostat to four or more degrees cooler than the room temperature.
Step 7
Wait three minutes, then place your hand near one of the vents. Hopefully you will feel cool air coming through the vent. If not, call a qualified repairman.