Things You'll Need
Power drill

Decking screws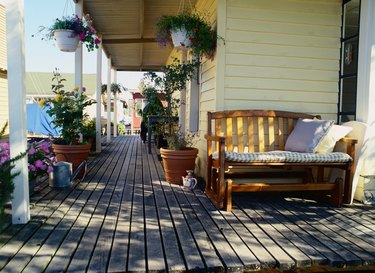 Among the myriad problems you can and will have around the house, a creaky wood deck is among the most annoying yet simple to repair. A creaky deck is not a safety issue but it can exponentially decrease your enjoyment. High-pitched squeaks are cause by boards rubbing joists beneath them. Fortunately, stopping the noise is a quick and easy fix that will leave you wondering what took you so long to do it.
Step 1
Walk along the deck to identify the trouble spots. Listen for squeaks and feel for movement.
Step 2
Drive several screws into the decking and joists where you hear the squeaks. Test for squeaks by jumping on the spot.
Step 3
Add additional screws along the offending joist if the squeaking continues.
---
Robert C. Young began writing professionally in 1989 as a copywriter for an advertising specialty company. From 2000 to 2007 he operated a real-estate development and construction company. His work has been published online at SFGate and various other websites. He graduated with a Bachelor of Business Administration in economics from Georgia State University.