Things You'll Need
Ladder

Rag

Screwdriver

New exterior flood-light fixture

Flood lamp bulb
Tip
Use exterior or weather-resistant bulbs to minimize the need to replace them.
Warning
Always turn the power off at the circuit breaker before attempting electrical work of any kind.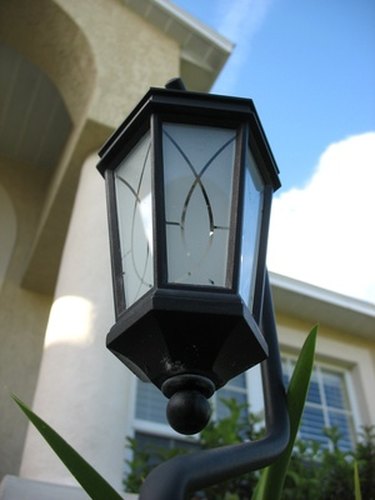 Exterior flood lights are a convenience as well as a safety feature. Parties and other gatherings or activities can be prolonged far into the night with bright outdoor lighting. Lights can also brighten your path when you come home late at night. In case of an emergency, flood lights illuminate exit paths and house numbers for response by emergency personnel. Exterior lights are also the best security against would-be burglars who prefer to work under the cloak of darkness. Light fixtures should protect bulbs with a cage-like housing or shatterproof casing. When a flood light is damaged or shorts out, it is easy to change.
Step 1
Turn off the power to the circuit.
Step 2
Position a step ladder securely under the exterior flood light.
Step 3
Remove the bulb in the existing unit with a rag.
Step 4
Remove the screws that hold the flood light's faceplate to the utility box with a screwdriver.
Step 5
Unscrew the twist connectors or wire nuts that join the black, white and green circuit leads to the old fixture leads. Remove old fixture.
Step 6
Place the new flood-light fixture up to the utility box. Connect the black wires of the fixture to the black wires of the circuit and tighten with the wire nuts. Connect the white wires of the fixture to the white wires of the circuit and tighten with the wire nuts. Connect the green wires in the fixture to green wires of the circuit and tighten with the wire nuts.
Step 7
Fasten the base of the flood light unit to the box. Turn the screws to tighten.
Step 8
Insert a new light bulb into the socket and screw it in clockwise until completely threaded.
Step 9
Turn on the power and flip the switch at the wall to test the light.
---
Elle Smith has been an advertising professional for more than 25 years. Her work for ABC, CBS and Sony Pictures Television has appeared on radio, on air, in print and outdoors. In addition, Smith has more than 20 years experience in marketing, graphic arts, commercial photography and print production, and is a licensed real estate agent with property management certification in California.