Things You'll Need
Concrete, 1 bag

Sand

Epoxy, 2 gallons

Water, 5 gallons
Tip
Do not add too much water to the concrete at the beginning of the mixing process. If the mixture is too runny it will not adhere well to the crack. Additional water can be added to the mixture at the end, if needed.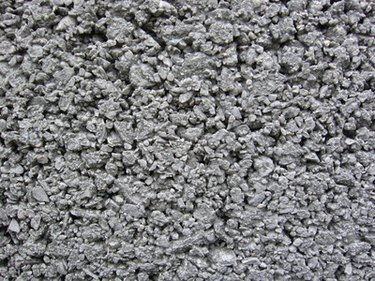 Concrete is often used to repair cracks in foundations and driveways. A concrete patch is good if the earth doesn't continue to move. If the foundation of the building continues to shift, or the driveway flexes, than it is only a matter of time until the crack reappears. However, if concrete is mixed with epoxy, the patch is able to flex with the movement of the foundation.
Step 1
Prepare a bag of concrete according to the manufacturer's instructions. Do not add any extra water to the concrete however to make the concrete easier to manipulate.
Step 2
Add sand to the mixture so that there is a 3-to-1 ratio of sand and concrete.
Step 3
Mix 2 gallons of epoxy as directed by the manufacturer.
Step 4
Combine the epoxy and the concrete mixture with 5 gallons of water. Stir the mixture well with a large stick to ensure that mixture is consistent throughout.
---
Lynn Rademacher started writing in 2001, covering technology, family and finance topics. Her writing has appeared in "Unique Magazine" and the "Ortonville Independent," among other publications. Rademacher holds a Bachelor of Arts in mass communication from South Dakota State University.