A rodent in the walls can be just as dangerous as it is annoying. Mice, rats and squirrels have the uncanny ability to find tiny openings and enter your home and then chew their way through walls, electrical cords or anything else that might be in their path. A damaged electrical cord on the interior of a wall is estimated to be the cause of up to 25 percent of all household fires in which the home is entirely lost. So that scratching sound on the inside of the wall isn't something to ignore; it should be taken care of immediately.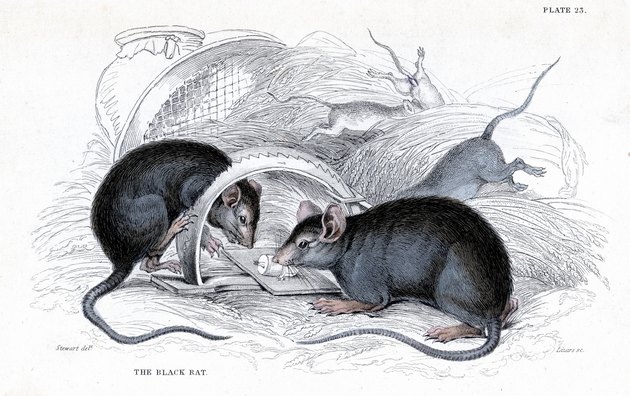 Step 1
Walk the exterior of the home and identify any potential entrances where rodents can get into your home. Place moth balls inside any openings you find and then plug the holes with steel wool. The steel wool will cut the mouths of any rodents that try to chew through it. Moth balls are poisonous to animals and will drive them away. Only do this if your problem is with mice or rats.
Step 2
Set up snap-type mouse and rat traps if you have rodents of this type. These traps should be set up in the attic or basement of the house and be baited with small bits of food. The rodents will come out at night to feed and the closer to their holes the food is, the more likely they are to be caught.
Step 3
Set up live traps at the entrances that are used by larger rodents, like opossum and squirrels. Bait these traps with peanut butter.
Step 4
Check the live cages every morning and afternoon. If you do catch a squirrel or opossum, call animal control. They will come out and remove and release the rodent into the wild.