Things You'll Need
Dry-cleaning spot remover containing tetrachloride

Soft-bristled scrub brush

Cloths

Microwave-safe glass jar

Oxalic acid (wood bleach)

Paintbrush

Bucket

3 oz. borax

Wooden spoon

Towel

Fine-grit sandpaper

Wood stain to match floor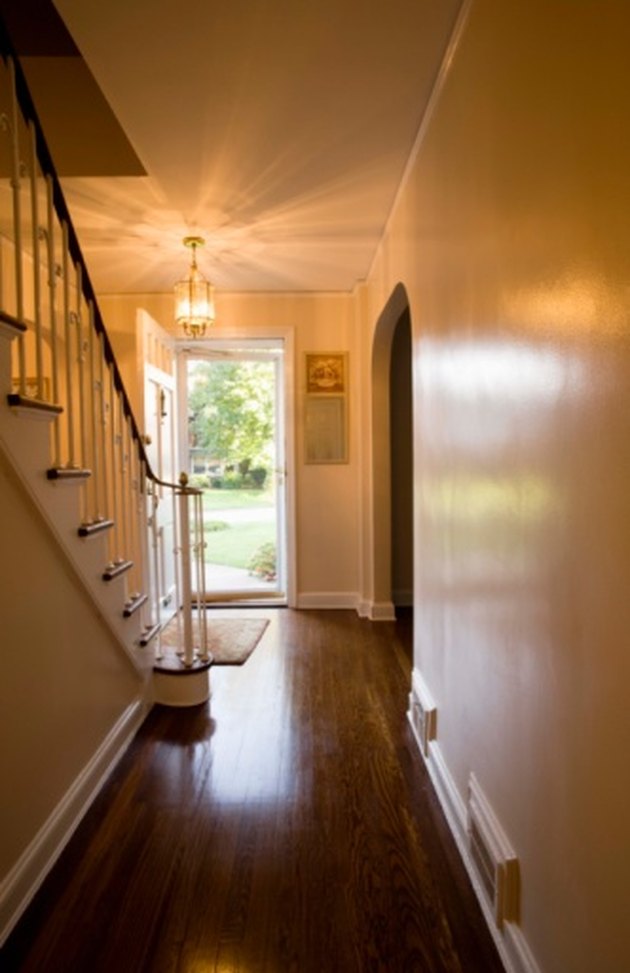 With the proper care, hardwood floors will last a lifetime. However, items such as oil, water, grease and pet urine will create black spots on the hardwood floors. These discolorations will cause your hardwood floors to look old and dingy. You can remove the black spots and restore the look of your hardwood floors, but it takes more than an everyday cleaning regimen.
Spot Remover
Step 1
Add two to three drops of a tetrachloride-containing dry-cleaning spot remover to black spots.
Step 2
Scrub the spot remover with a soft-bristled scrub brush for several seconds. Wipe the spot remover off the hardwood floors with a damp cloth.
Step 3
Examine the black spots. Repeat the process until the black spots are no longer visible.
Oxalic Acid
Step 1
Fill a microwave-safe glass jar with 1 part oxalic acid and 1 part distilled water.
Step 2
Place the jar inside the microwave. Heat it on high for 30-second intervals until the mixture is warm. Repeat this step whenever the mixture begins to cool down.
Step 3
Dip a paintbrush in the mixture. Brush it on the black spots until they are thoroughly covered.
Step 4
Let the mixture dry on the black spots. Examine the progress of the discoloration from the bleach. Repeat the process until the black spots are no longer visible.
Step 5
Fill a bucket with 1 gallon of cool water. Pour 3 oz. of borax in the water and stir with a wooden spoon. Dampen a cloth in the mixture and wipe the hardwood floors. The borax mixture will neutralize the bleach.
Step 6
Dampen a second clean cloth with cool water. Rinse the borax mixture off the hardwood floors with the damp cloth. Wipe the hardwood floors dry with a towel.
Step 7
Sand the floors with a piece of fine-grit sandpaper. The oxalic acid can raise the grain of the wood. Rub the raised wood with the sandpaper for several passes until it matches the surface of the surrounding floor.
Step 8
Wipe the floor clean. Stain the bleached and sanded area to match the surrounding floor.
---
Amanda Flanigan began writing professionally in 2007. Flanigan has written for various publications, including WV Living and American Craft Council, and has published several eBooks on craft and garden-related subjects. Flanigan completed two writing courses at Pierpont Community and Technical College.