Things You'll Need
Paint remover

Paintbrush

Cloth

Sponge

Nylon brush

Vacuum

Tack cloth

Grout

Bucket

Oil-based grout stain

Wooden stirring stick

Putty knife

Lint-free cloth

Polyurethane finish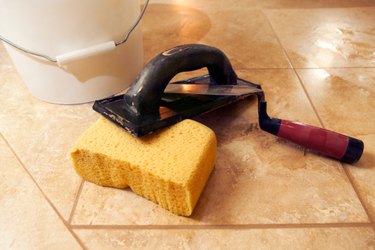 Marble flooring may appear strong but it can be brittle, especially if the subfloor that your marble is installed on moves often or greatly. The result of a shifting subfloor can be a crack in your marble floor that not only mars the beauty of the marble but also may become a starting point for extensive cracking throughout the floor surface. Making repairs to cracked marble flooring is not a complicated process. The repair consists primarily of filling the crack with colored grout so that the crack blends in with the rest of the flooring. It's a repair that most DIY homeowners can complete with great results, returning the floor to use within days.
Step 1
Remove any finish present on the marble surrounding the crack within a 2-inch perimeter using a paint remover brushed onto the floor with a paintbrush. Allow the stripper to dwell on the marble surface, dissolving the finish for about five minutes, then wipe the stripper from the floor with a clean cloth. Rinse off the surface with a damp sponge and pat the surface dry.
Step 2
Clear the crack of any marble chips with a nylon brush, then remove any small bits of dirt or debris with a vacuum. Wipe the cracked area with a tack cloth to clear away all dust.
Step 3
Mix a batch of grout in a small bucket. Color the grout with an oil-based grout stain, stirring the stain into the grout with a wooden stirring stick to match either the color of the marble or the color of the veins running through the marble.
Step 4
Fill the crack with the grout, pushing it firmly into place with a putty knife until the grout is even with the surface of the marble floor. Scrape across the surface of the crack to level out the patch. Remove any excess grout from the marble surface with a damp sponge within 15 minutes of application. Wait two hours and wipe the surface with a clean lint-free cloth to remove any grout residue. Allow the grout to dry overnight.
Step 5
Examine the patch for shrinkage. Press more grout into the crack to complete the fill if shrinkage occurs. Allow the new layer of grout to dry as well for the time recommended by the manufacturer.
Step 6
Seal the patched crack by brushing the area with a layer of polyurethane, using a foam applicator. Allow the polyurethane 48 hours drying time before using the floor as normal.
---
Larry Simmons is a freelance writer and expert in the fusion of computer technology and business. He has a B.S. in economics, an M.S. in information systems, an M.S. in communications technology, as well as significant work towards an M.B.A. in finance. He's published several hundred articles with Demand Studios.