Mold is a fungus that grows naturally outdoors. The purpose of mold is to break down dead and rotting matter such as fallen trees, logs, plants, leaves and other vegetation. Mold growing indoors can be toxic if it is not dealt with immediately. Porous material that is covered in mold needs to be discarded immediately and replaced. Different types of flooring hold mold differently.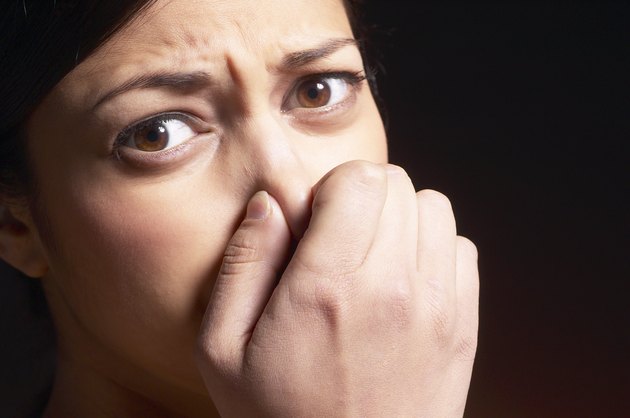 credit:
Hemera Technologies/AbleStock.com/Getty Images
Step 1
Put on goggles, mask and rubber gloves.
Step 2
Pull up all flooring with mold underneath. Hardwood floors are a bit more difficult, but you should be able to pull up the hardwood in sections to clean. Linoleum can be removed in sections using a razor blade and can be easily replaced if cut in sections of 1 square foot. If the mold is under carpet, be sure to remove any padding under the carpet as well. Carpet and padding with mold will most likely need to be discarded and replaced.
Step 3
Mix 1 cup of detergent with 1 gallon of water.
Step 4
Scrub all moldy surfaces with detergent solution. If the mold does not come off, the flooring will need to be replaced.
Step 5
Clean up all water and repair any leaks in your home. Check underneath the flooring, in the walls, and in the ceilings all around the mold to determine where the moisture that led to mold growth is coming from. Make sure that all moisture has been removed to prevent the mold from coming back.