Things You'll Need
New mailbox post

Pickax

Shovel

Four-foot long 2x4 lumber

Hammer

Nails

Gravel

Level

Screwdriver

Deck screws
Warning
United States Postal Service regulations state that mailboxes must be set 6 to 8 inches away from the curb, a distance that allows the mail carrier to remain seated in his truck when delivering your mail.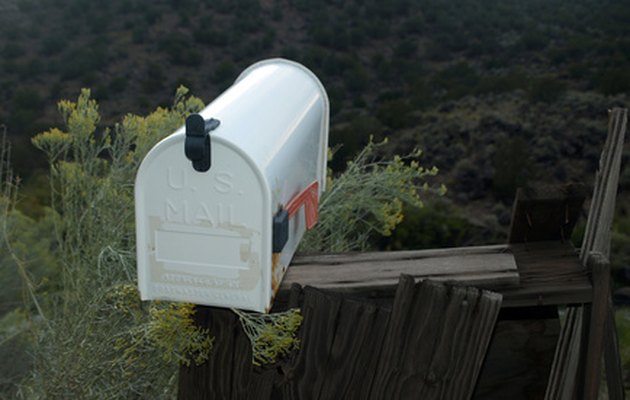 While it is possible to rig a broken mailbox post by fastening a sturdy piece of wood to it, a better solution will be to purchase and install a whole new post. This can mostly be done in a single afternoon, and it may even provide you with an opportunity to upgrade the look of your whole mailbox. For a few dollars and a couple hours of work, you can replace your old post and you'll never have to worry about it falling apart.
Step 1
Inspect the old post. If it is set in cement, you will want to place your new post next to the old location because cement is extremely hard to wrestle out of the ground. If the old post is not set in cement and you want your new mailbox in the same spot, you can nail a 2x4 piece of lumber to the bottom of the old post and lever it out of the ground with a car jack.
Step 2
Buy a new mailbox post. Your mailbox must be between 41 inches and 45 inches from the ground according to United States Postal Service regulations, so keep that in mind when selecting the length of your post.
Step 3
Treat wooden posts to prevent rot and termites. Coat the section of the wood that will be underground with a preservative like Woodlife wood preservative and allow it to soak overnight before putting it in the ground.
Step 4
Dig your new hole or, if you removed the old post, make the old hole bigger. Use a pickax to break up the ground if the dirt is very hard, then use a shovel to dig. The depth of your hole will be between 2 and 3 feet depending on the length of your post.
Step 5
Place a layer of gravel at the bottom of your new hole to keep water draining away from your post. Insert the post in the hole and begin filling dirt in around it about 6 inches at a time. Use a level to keep the post straight, and pack the dirt well before adding another layer.
Step 6
Place your mailbox on top of the new post using deck screws. By using screws instead of nails, you will be able to remove the box easily when you decide to replace it later.
---
Desdemona Delacroix has been working as a freelance author in her spare time since 2000, writing short do-it-yourself and current events articles. She holds a Bachelor of Science degree in psychology from the University of Maryland University College, and she occasionally offers tutoring services in writing to undergraduate college students.