Things You'll Need
Screwdrivers

Hammer

Pencil

Drill

3/16-inch drill bit for drywall

7/32-inch drill bit for plaster
Tip
When wiring the new thermostat, ignore the color of the wires; wire the thermostat only according to the terminal designations. For new installations or unmarked wires, consult the installation manual in the References section.
Warning
Ensure that power to the heating system and thermostat is disconnected before attempting to replace or service the thermostat.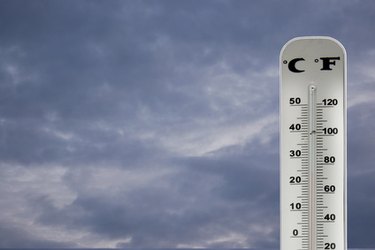 If you've started to notice a rise in your heating bills, uneven heating, or your heating system switching on and off more frequently, it may be time to replace your thermostat. New thermostats are more accurate and more reliable than older thermostats and can save you considerable money over their lifetime. Replacing your old thermostat with a Honeywell CT87K thermostat can be accomplished using only basic hand tools and some preparation.
Step 1
Switch the breaker or remove the fuse that supplies power to the existing thermostat or heating system. Remove the existing thermostat but leave the wall-plate with the wires attached intact. Mark each wire according to the terminal it's connected to on the wall plate. Disconnect the wires from the wall plate using a screwdriver and remove the wall plate from the wall.
Step 2
Pull the wires through the large opening in the base of the new thermostat and hold the base against the wall in the desired mounting location. Mark the location of the mounting holes using a pencil. Remove the base from the wall and drill holes in the marked locations using a drill and appropriately sized drill bit.
Step 3
Insert the included wall anchors into the drilled holes and lightly tap them with the hammer until they are flush with the wall surface. Pull the wires through the large hole in the base of the new thermostat and align the mounting holes with the wall anchors. Insert the included screws into the anchors and tighten them firmly with a screwdriver.
Step 4
Insert each wire into the terminal on the new thermostat that corresponds to the terminal it was connected to on the old thermostat. Tighten the terminal screws snugly with a screwdriver.
Step 5
Line the tabs on the faceplate up with the slots on the base and press firmly until the faceplate snaps into place. Restore power to the thermostat and test system operation. Recheck all connections, fuses and breakers if the system fails to operate.
---
David Young has written for the website for the Save Darfur Coalition and is currently writing articles for various other websites. Young holds a Bachelor of Arts in philosophy from Western Carolina University.