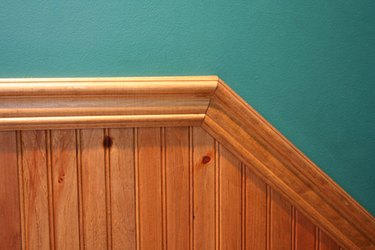 A chair rail is traditionally a small width of wood molding set across a wall horizontally approximately 36 inches from the floor or from the top of baseboards/floor molding. Its utilitarian purpose is to protect the wall from damage that can occur when scraped or hit by the backs of chairs. Nevertheless, aesthetically a chair rail breaks up a wall visually and permits a wide variety of decorative schemes. Many alternatives to the traditional chair rail can create the same visual effect.
Wallpaper Border
Wallpaper borders are most often used for decorative edging near where the wall and ceiling meet. Lower the placement of the traditional 2- to 4-inch high wallpaper border to mid wall to achieve a faux chair rail effect.
Wallpaper Cutouts
Wallpaper cutouts, which are pre-cut shapes and designs from pre-glued wallpaper, are an effective chair rail alternative. Mark a horizontal line with a pencil to center the images.
Ribbon
Use ribbon as a chair rail alternative by adhering it with a thin coating of wallpaper glue. Most craft stores carry a large assortment of ribbon-by-the-spool, which averages 3 yards per roll; you can also select ribbon-by-the-yard at craft stores that have a fabric-cutting area. Purchase at least an extra roll of the corresponding ribbon-by-the spool or an extra yard of the ribbon-by-the-yard to ensure overlap and, if necessary, align patterns. Get creative and make a "double" rail, placing one ribbon about 8 inches above the other. Paint a different color between the ribbons or include words, a stenciled design or wallpaper cutouts at different intervals between the two ribbons.
Painted Stencils
A staple in the shabby chic and country living decorative styles, you can make stencils take center stage as a chair rail alternative. Use patterns such as ivy and flowers as the horizontal border along with a vertically striped paint effect on the lower register of your wall.
Paint Shades and Patterns
When painting, get creative and create a chair rail effect by painting the bottom register of the wall a different color, shade or pattern than the top register. Delineate the areas with a horizontal strip of blue painters' tape. Paint below the line with vertical stripes or other patterns and above the line in a solid color or different stripe pattern. Sketch your design on paper, and get test paint samples (not just the paint-chip color cards) to ensure the colors and designs you want work together. Separate the two areas with a horizontal line of paint in a color that unites the two registers.
Different Paint Textures
Experiment with different paint texturing techniques for one or both registers of your wall. Use sponging marbling, antiquing or stucco for one register and a single color for the other. Separate the two registers with a horizontal band of painted color, or combine with other chair rail alternative methods.
Fabric
Use fabric to add elements from your upholstery to your wall. Choose similar or complementary textures and patterns to your furniture for a 1- to 6-inch band of fabric for your chair rail alternative. Measure wall widths and add extra for seam allowances and any cutting that you may need to have a continuous pattern. Machine-stitch the long edges of the fabric to avoid fraying, and affix to wall with wallpaper glue or other glue that will flex with the wall and fabric as they shift with temperature changes. Experienced sewers can even create a 3-dimensional fabric chair rail.
Leathers
Leather and suede can make an interesting textural change in wall décor when used as a chair rail alternative. Use thin horizontal strips placed parallel to one another, a wide singular strip of leather or suede or create a stunning visual effect by covering the entire lower register with vertical strips or whole sections of leather or suede. Attach leather and suede with small wall nails at even intervals across the entire length of this style of chair rail alternative.
Vinyl Appliqués
Many craft and home improvement stores and sites carry vinyl wall appliqués in different shapes, sizes and graphics including letters and numbers. Relatively inexpensive and simple to use, peel the backing off and stick them across a horizontal band along the width of the wall.
Hardware
For a rustic look, use flathead or round, buttonhead nails along the length of the wall for a different approach to a chair rail alternative. Make sure that they do not project too far out from the wall (no more than 1/2 inch) to avoid potential injury from the hardware.
Decorative Buttons
Glue an array of decorative buttons across the wall as a chair rail alternative.
Tile
Use decorative tiles set horizontally across the wall as an alternative to traditional wood chair rail molding.
---
Michigan-based Erika Geiss has been writing since 1998. Her work has appeared in such publications as "Mothering," "World Energy Monthly Review," and "A Cup of Comfort for New Mothers." Geiss earned her BA from Brandeis University and her MA from Tufts University. She has enjoyed both sides of the editorial desk as a copy editor, writer and contributing editor.