When it comes to removing vinyl wallpaper, put away your steamer and follow these simple steps for easy pull-and-peel removal. This is a messy, time-consuming endeavor, but the end result of having that outdated vinyl wallpaper out of your life for good makes it well worth the effort.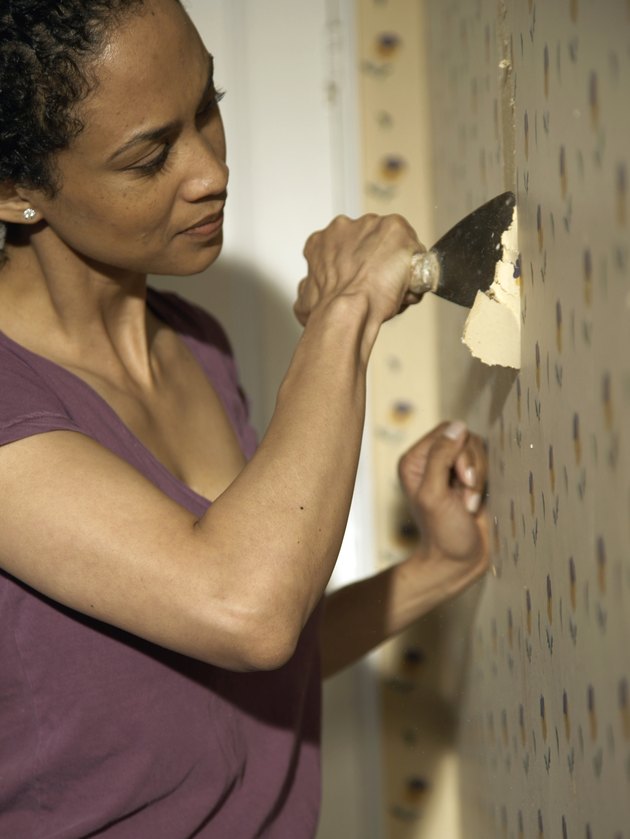 credit:
Gary Houlder/Photodisc/Getty Images
Step 1
Decide which way the wallpaper was hung and attempt to use your scraper or putty knife to get underneath it. A flexible scraper with an even edge works best to minimize holes and gashes in the wall.
Step 2
Start at an edge and slowly tear the paper upward, removing as many layers as possible in the process.
Step 3
Spritz a small area of paper with water from your spray bottle. If nothing is budging or you don't mind a little mess, consider applying more water using a paint roller and then following with your putty knife or scraper. This is not the neatest approach, but itshould remove any stubborn wallpaper, paper layers or residue fairly quickly.
Step 4
Add more water over a larger area as you work. This gives the moisture time to soak in and loosen the glue while you're still working on the current spot.
Step 5
Remove the last bits of paper from the wall and allow it to dry overnight before applying your new paint or covering.