Things You'll Need
Wood block

Tape measure

Drill

Saw

Sandpaper

Clean cloth

Acrylic paint

Paint brush

Glue adhesive

Roller

Sponge
Tip
Spread newspapers over your work area to prevent glue stains.
If you want a sealer for the finished product, brush a couple of layers of decoupage glue over the front of the poster. Allow it to dry for 24 hours.
Warning
Keep your hands well away from the saw blade when cutting wood.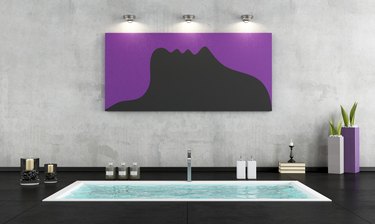 When you block mount a poster to wood, the poster -- not the frame -- becomes the main focus of the wall hanging. Block mounting can be accomplished with a few basic, inexpensive supplies and a small time commitment.
Step 1
Cut a block of wood to the exact height and width of your poster. The wood block can be any depth. Most stores sell sheets about an inch thick.
Step 2
Mark a spot at the center of the back side of the block, toward the top -- about 2 inches from the top edge for a standard-sized poster -- if you intend to hand the poster on the wall. Drill at that spot, about halfway through the depth of the wood block.
Step 3
Sand the cut edges of the wood block to smooth. Wipe down all surfaces with a clean cloth to remove the sawdust.
Step 4
Apply two coats of acrylic paint to the sides of the wood block. Allow the paint to dry to the touch between coats -- a couple of hours. Select any color of paint you desire for this finish. Use the sandpaper to remove any unwanted drips of paint from the wood block. Wipe down the block with the clean cloth before doing this to remove any last bits of dust.
Step 5
Apply a layer of the glue adhesive to the front of the wood block. Choose from a variety of adhesives for this job -- spray adhesive, decoupage glue, even polyurethane glaze. A disposable paint brush is helpful for "painting" the non-spray adhesives onto the wood surface.
Step 6
Position the poster over the wood block surface. Lay it flat on the wood with the edges lining up.
Step 7
Use the roller or a clean sponge to smooth down the poster onto the glue adhesive. Move outwards from the center of the poster towards the edges to reduce bubbles and wrinkling in the poster. Allow the glue to dry overnight before hanging your poster.
---
Faith Chandler learned to sew at her mother's knee from an early age. After she started writing professionally in 2005, Chandler used her skill to write about the arts, crafting and sewing. She also worked for Realestateinvestor.com for a few years, learning the ins and outs of investing in property. Chandler has a Bachelor of Arts in creative writing and a minor in fine art from Bowling Green State University.