Plantation blinds, also known as plantation shutters, consist of wood plank levers affixed to a frame that secures to the window frame; they operate similar to Venetian blinds, minus the cords. Some designs include a frame that holds the shutters open, like doors that sit on either side of the window, when more light is needed in the room. The shutters may have a tilt-rod adjustment, depending on their design and construction. The rod is affixed to the middle of the wide planks and changes the angle of the slats as needed.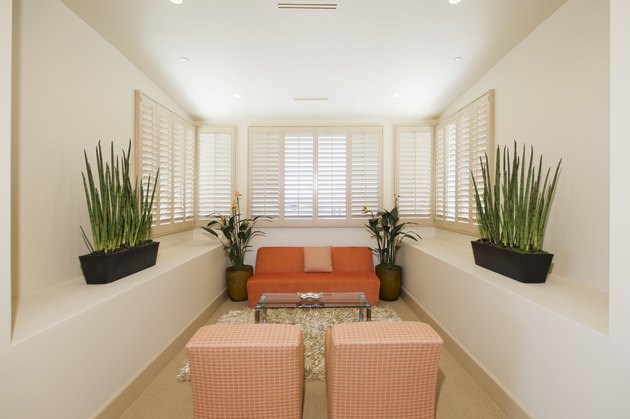 credit:
moodboard/moodboard/Getty Images
Plantation Shutter History
These shutters take their name from the 1800s cotton plantations of the South, and were brought to America by the Spanish. They originated in ancient Greece, where the fixed louvers in the shutters consisted of marble or stone. Originally designed for protection, ventilation and light control, nowadays plantation shutters also serve a decorative purpose when installed as window treatments in the home.
Types of Plantation Blinds
When used inside the home, plantation shutters may be the only window treatment required, and they are custom fitted to each window. While traditional shutters consist of natural, stained and finished or painted wood, homeowners can opt for less costly versions by choosing vinyl, medium density fiberboard hybrids, polyclad or polyfoam. Many of these are made to mimic a wood or painted wood look. Each type comes with a different pricing level to help you choose a product that fits your window treatment budget. Large windows often have hinged shutters with several panels that fold in place next to the window when open.
Plantation Shutters Vs. Venetian Blinds
Shutters have wider louvers than standard Venetian blinds do, and operate entirely differently. Shutter louvers run from 2 1/2 inches, 3 1/2 inches to 4 1/2 inches wide, based on the size of the room or the ceiling height. Conversely, blinds have small 1-inch widths all the way up to 2-inch widths. The adjustment rod that manages the angle of the slats usually hangs to the left on blinds, but on shutters, you adjust the angle of the wide planks via a tilt rod affixed to each individual shutter in front or back, so that all louvers open equally at the same time. Exterior shutters, on the other hand, are more for decorative purposes, have smaller louvers and are not adjustable.
Review the pros and cons of the different shutter materials, because some do not perform as well as others. Some shutters use staples to affix the tilt rod to the louvers, which can come loose with frequent use. While it's not always true, generally you pay for what you get. If the cost seems too low, it means either the item is discontinued or on clearance, or it was made from an inferior material.
You can buy shutters that have cords or not, inside or outside mounting, single panels or split frames, with or without tilt rods, thinner or thicker louvers -- some even have remote controls. Check warranties, as higher quality shutters will have warranties that last longer.