Things You'll Need
Tape measure

Fabric

Iron

Grosgrain ribbon

Sewing machine

Needle and thread

Scissors
Tip
Slide your curtain rod into your rod pocket, and hang your rod. Fold the curtain up from the bottom in pleats, and tie your grosgrain ribbons at the length you want your curtain. Cut the ends of the grosgrain at an angle, and use anti-fray liquid or glue, if needed. Drapery fabrics with good weight are the best choice for this type of curtain.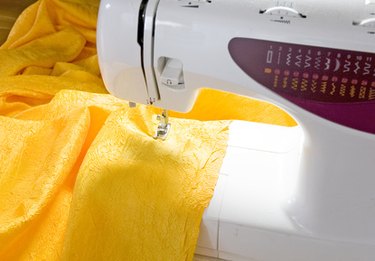 A tie-up curtain is a simple way to dress up a window to create a look that is between the formality of a Roman shade and the casual look of a cafe valance. To create this look is surprisingly easy and inexpensive with simple sewing techniques. This window treatment looks best with a fixed type of decorative rod that is chunky and can handle simple finials like ball shapes.
Step 1
Measure the width of your window, and add 2 inches. Measure the height of your window, and add 3 inches. Preshrink your fabric, and iron it flat.
Step 2
Cut your fabric to your measurements. Double-hem your fabric on all four sides by tucking your fabric under 3/8 inch and then 1/2 inch and sew in place. Iron the hems.
Step 3
Cut two pieces of grosgrain ribbon twice the length of the window height. Keep in mind that the curtain will tie up within the window height. Fold each ribbon in half to find the center, and mark with a pin.
Step 4
Place your curtain face up on your work table. Measure the width of your curtain, and divide by 4. Pin the center of one ribbon one-fourth the distance from the side of the curtain at the top hem. Half the ribbon should be above the top hem of the curtain. Pin the second ribbon one-fourth the distance from the other side of the curtain at the top hem.
Step 5
Measure 4 inches down from the top hem, and pin the ribbons again, making sure the ribbon is parallel with the side of the curtain. Turn your curtain over so that it is face down.
Step 6
Check that half of each ribbon is out of the way of sewing (on the fabric face side) and that the remaining ribbon is above your top hem. Fold your top hem 2 and 1/2-inches from the top to make a rod pocket. Bring your ribbon tails with you. Sew your curtain rod pocket at 2 1/2 inches crossing over the ribbon on both sides of the curtain. This is how you attach the ribbon to the curtain. Remove the pins.
---
F.R.R. Mallory has been published since 1996, writing books, short stories, articles and essays. She has worked as an architect, restored cars, designed clothing, renovated homes and makes crafts. She is a graduate of the University of California at Berkeley with bachelor's degrees in psychology and English. Her fiction short story "Black Ice" recently won a National Space Society contest.