Things You'll Need
Tape measure

Piece of paper

Pen

Dust cloth

Fabric

Acrylic matte medium

Small brush

Scissors

Vertical backing material
Tip
Just add the length for one side of the blinds, since it is only necessary to cover the side facing out. If you desire to cover both sides, then double the measurements.
To determine the height or width measurements in yards, divide total feet by three. For example, if you need 120 feet of fabric, you will need 40 yards.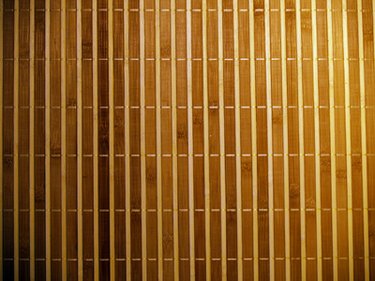 Fabric covered vertical blinds can update a look of any room and coordinate with home decor. It is possible to get new blinds for less by covering vertical blinds with the fabric of your choice. Since the track and slats are all in place, all you need to do is secure the fabric to the slats with an adhesive. Follow these simple directions to creating your own fabric vertical blinds.
Step 1
Determine the height and width of the vertical blind slats so you know how much fabric to purchase. Add three inches to the length and width to account for mistakes. The average vertical blind slat is about 3.5 inches wide and about 60 inches in height.
Step 2
Purchase fabric from an arts and crafts store. Keep in mind if you are using a pattern how it will look on the blinds when you cut it. You will want a light weight fabric such as polyester or acrylic blends. These materials are virtually fade resistant and fray less than other fabrics.
Step 3
Remove the blinds from the window and place them on a large flat surface. Pull each blind slat out. Trace the outline of one slat with a pen on a piece of paper to use as a template. Lightly dust each slat with a cloth if needed. Apply acrylic matte medium with a small brush to each piece of fabric to prevent fraying. Make sure the fabric is thoroughly covered. This medium can be purchased from arts and crafts store. Trim the fabric with scissors according to your measurements. You will need one piece of fabric for each vertical blind slat.
Step 4
Attach the fabric to the blinds by using pressure-sensitive vertical backing material, which is similar to double sided tape. This can be found at an arts and crafts store. Use scissors to cut the adhesive according to your slat measurements. You will need one piece of adhesive for each slat.
Step 5
Peel off the protective layer on the adhesive and place it on the side of the vertical blind slat you wish to cover. Pull off the layer on the other side of the adhesive, which is where you will place the fabric.Carefully place the fabric on the adhesive and make sure it is aligned with the blind slat. Add pressure with your fingers so it adheres to the slat, until it is firmly attached. Smooth out any air bubbles with your fingers.
Step 6
Slide the slats back into the carriers on the blind and hang them above the window. Pull the control chain to ensure the blinds operate correctly.
---
Dianne Christensen-Herman
Dianne Christensen-Hermance is an accomplished journalist with more than 10 years experience in writing news and feature articles for newspapers. She is a freelance writer for The Muskegon Chronicle in Muskegon, MI, and Demand Studios. She has a Bachelor of Science degree in journalism from Grand Valley State University.